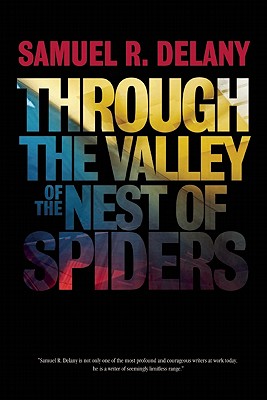 Through the Valley of the Nest of Spiders (Paperback)
Magnus Books, 9781936833146, 804pp.
Publication Date: April 10, 2012
Description
Like his legendary Hogg, The Mad Man, and the million-seller Dhalgren, Samuel R. Delany's major new novel Through the Valley of the Nest of Spiders—explicit, poetic, philosophical, and, yes, shocking—propels readers into a gay sexual culture unknown to most urban gay men and women, a network of rural gay relations—with the twist that this one is supported by the homophile Kyle Foundation, started in the early 1980s by a black multi-millionaire, Robert Kyle III, to improve the lives of black gay men.

In 2007, days before his seventeenth birthday, Eric Jeffers' stepfather brings him to live with his mother, who works as a waitress in the foundering tourist town of Diamond Harbor on the Georgia coast. In the local truck stop restroom, on his first day, Eric meets nineteen-year-old Morgan Haskell, as well as half a dozen other gay men who live and work in the area. The boys become a couple, and for the next twenty years labor as garbage men along the coast, sharing their lives and their lovers, learning to negotiate a committed open relationship. For a decade they manage a rural movie theater that shows pornographic films and encourages gay activity among the audience. Finally, they become handymen for a burgeoning lesbian art colony on nearby Gillead Island, as America moves twenty years, forty years, sixty years into a future fascinating, glorious, and—sometimes—terrifying.
About the Author
Along with four Nebula Awards, two Hugo Awards, and the William Whitehead Memorial Award for his lifetime contribution to lesbian and gay writing, Samuel R. Delany is a winner of the Kessler Award from CLAGS at SUNY Graduate Center.

Born and raised in New York City's Harlem in 1942, from 1988 to 1999 he was a professor of comparative literature at the University of Massachusetts at Amherst. After two years' teaching in the SUNY Buffalo Poetics Program, since January 2000 he has been a professor of English and creative writing at Temple University, where he is Director of the Graduate Creative Writing Program.

His novels include Nova (1968), Dhalgren (1975), Trouble on Triton (1976), and The Mad Man (1995). He is author of the four-book series, Return to Neverÿon (1979-'87), and the short novel Phallos (2004). His most recent novel, Dark Reflections (2008), won the 2008 Stonewall Book Award and was a runner up for that year's Lambda Literary Award. His stories have been collected in Aye, and Gomorrah, and Other Stories (2002) and Atlantis: Three Tales (1995). His nonfiction volumes include The Jewel-Hinged Jaw (1977-rev. 2009), About Writing: Seven Essays, Three Letters, and Five Interviews (2006), and Times Square Red, Times Square Blue (1998).

He was a judge on the fiction panel for the 2010 National Book Award. A collection of his interviews has appeared in the University of Mississippi Press's prestigious Conversations with Writers Series, Conversations with Samuel R. Delany (2009), edited by Carl Freedman.

He lives in New York City.
Praise For Through the Valley of the Nest of Spiders…
Praise for Dark Reflections

"Samuel R. Delany is not only one of the most profound and courageous writers at work today, he is a writer of seemingly limitless range. Delany can populate alien worlds or hypothetical futures and he can, with equal skill, home in, as he does in Dark Reflections, on the extraordinary life of a single, outwardly ordinary man living right now in New York City. Delany gives us to understand that all worlds, including our own, are alien, and terrifying, and wondrous."--Michael Cunningham

"Dark Reflections is one of the most honest books I've ever read about the martyrdom of the writer in the contemporary world. Samuel Delany, who has entertained readers for decades with his rich fantasies, now gives us the truth and nothing but the truth. At certain points I wanted to put this down because it was so sad--but I couldn't because I was so engrossed by its spare beauty and its searing frankness."--Edmund White

"In previous books, Delany has shown himself to be comfortable with both gay and straight, black and white milieus—not to mention various literary forms—but the hero of this heartfelt, often funny book is triply alienated…Dark Reflections, while harrowing and bleak, is mainly tender—a loving rendition of a place that gentrification has all but obliterated, a spot-on portrait of the East Village artist as a gay black geek."--Andrew Holleran, writing in The Washington Post


Praise for Dhalgren

"I consider Delany not only one of the most important SF writers of the present generation, but a fascinating writer in general who has invented a new style." --Umberto Eco

"The very best ever to come out of the science fiction field... A literary landmark." --Theodore Sturgeon
Advertisement