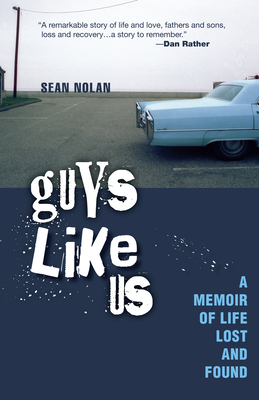 Guys Like Us (Paperback)
A Memoir of Life Lost and Found
GemmaMedia, 9781936846016, 206pp.
Publication Date: August 5, 2011
Description
On a Saturday morning while in his early fifties, Mike Nolan, a hard-living, hard-working, hard-driving lawyer in New Jersey, was hit by a truck on a 50-mile bike ride and given up for dead. But he didn't die. After months and months of recovery, Mike looked the same as he always did. The only change? He had absolutely no memory. Guys Like Us, like a reverse memoir, is the attempt by his son to tell him who he is through tales of the Nolan family on the Jersey shore and Mike's powerful career in the city. Mike was a fierce man who ran afoul of his own father, patriarch of the Nolan clan planted in Ocean County. The Nolans are people who suffer no fools, take no prisoners, and you had better have a lot of liquor in the house. Three strong characters - Joe, the grandpa, Mike and Sean - dominate Guys Like Us. Add a big old Cadillac that Joe and Sean bomb around in, Sean behind the wheel at the ripe age of eight. Stir in the boardwalks and beaches of the Jersey shore and family feuds, and the pot boils. Sean Nolan does not fall far from the tree. It doesn't take long for him to realize he has to tell Mike, among many other things, what a jerk he could be. And that dark secrets long held in a young boy's heart are out of reach to him forever. Giving his father back his memory, warts and all, Nolan paints a poignant, and often hilarious, portrait of their shared past.
About the Author
Sean Nolan was born in New Jersey, grew up on Ocean County's Route 35 and moved to New York City. He is a graduate of the University of Notre Dame and New York University's Stern School of Business and now lives in Dublin, Ireland. Sean has not driven a car in eight years.
Praise For Guys Like Us: A Memoir of Life Lost and Found…
"A remarkable story of life and love, fathers and sons, loss and recovery. And one of the nearest to death experiences you will ever encounter. It is a story to remember." --Dan Rather
Advertisement