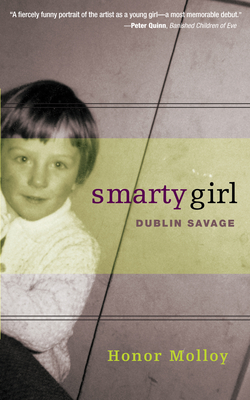 Smarty Girl (Paperback)
Dublin Savage
GemmaMedia, 9781936846108, 260pp.
Publication Date: March 17, 2012
* Individual store prices may vary.
Description
An autobiographical novel set in 1960s Ireland, this irresistible story follows the rise and fall of the O'Feeney family, seen through the eyes of a precocious little girl. More savage than civilized, Noleen is a rare character from a Dublin long forgotten, where Nelson's Pillar still stands in O'Connell Street?but not for long?and where untamed musicians gather in the O'Feeneys' kitchen to raise a jar and the roof. Noleen's father, a successful actor and scoundrel king of the city, does his best to destroy his family, while her mother tries to save it. Noleen schemes to make it through each Dublin day, cadging sweets and growing tough in the midst of chaos. In the end, however, nothing?not even a fierce girl's powerful imagination?can hold the family together and keep them, safe as geese in the sky, in their home on Tolka Row.
Smarty Girl
is a wild child's journey through a world alternately tender and brutal, humorous and heartbreaking, told in language as musical and vibrant as Dublin itself. Honor Molloy's mother Yvonne is an American theatre director who sailed to Ireland in 1953 to study in Trinity College. Her father John was a seventh generation Dubliner and a local legend for his work on stage, in films and on television. Dedicated to capturing and preserving the Dublin vernacular, they worked together for fifteen years producing plays, radio, television shows ...and six children. The life they led together---and the reasons that life had to end---provides the inspiration for their
Smarty Girl.
About the Author
Honor Molloy has received fellowships from the National Endowment for the Arts, the Radcliffe Institute for Advanced Study at Harvard (2002 Fellow) and a Pew Fellowship in the Arts. She has told her stories at the Dublin City Library and Archives, the Issue Project Room, Rocky Sullivan's of Red Hook, the Public Theatre New Works, among many others.
Praise For Smarty Girl: Dublin Savage…
"..all at once a documentary investigation, a fictionalized rendering of a childhood and a faithful recreation of 1960s Dublin."  - Irish Echo

"Honor Molloy makes a most memorable debut with this fiercely funny portrait of the artist as a young girl. Along with being a smarty girl, Noleen O'Feeney is irreverent, sarcastic, resilient, engaging, entertaining, and wise beyond her years. I didn't want this book to end. Bravo, Ms. Molloy! Encore!" --Peter Quinn, American Book Award winner for Banished Children of Eve

"The richness of the telling and the lessons of it can be weighed in every line. Many Irish books will be released this year, but few will be this candid or this complete...a lighthouse intelligence that doesn't miss a stitch." - The Irish Voice : http://www.irishcentral.com/ent/Savage-Dublin---Honor-Molloys-Smarty-Girl-memoir-146124645.html#ixzz1rqUn6zJp 
"As the daughter of one of Dublin's most well know and well-loved actors, Honor Molloy introduces us to the mythical era in Dublin's history where drama and storytelling took precedence over the often harsh reality of life in 1960's Ireland. In rich, evocative language, Honor's unique voice lends a child's authenticity to her family's tragic yet, ultimately, heartwarming story. Her lyrical writing is worthy of her father's comedic dramatic style making their memoir both moving and informative. A real piece of Dublin history."--Kate Kerrigan, Ellis Island

"The beauty of the language, of the dialogue – seeing the worlds being created – is intoxicating." - Irish Arts  "I have seen and heard many perform their written work over the last forty years, but it is easy to say that Honor Molloy, on the page or in person, is one of the very best I have ever experienced. She is, in fact, beyond recommendation. Her writing and performances should be mandatory events for civilized people. I say that because Molloy brings the fundamental gift that art offers all of us: morale. That is all that can honestly be said."--Stanley Crouch, cultural critic, syndicated columnist, and novelist  "If James Joyce had been a woman and remembered a more contemporary Dublin childhood, he might be someone like Honor Molloy-- Her lyrical prose and earthy recollections sing to Joyce's rhythm and a beat all her own...A modern classic from a writer with a unique voice- the daughter of a wild Irish drunken actor and his tormented American wife, Honor's alter ego, Noleen, suffers a brutal childhood worthy of Angela's Ashes, but survives by her wit and powers of poetic observation."  --Laura Shaine Cunningham, Sleeping Arrangements