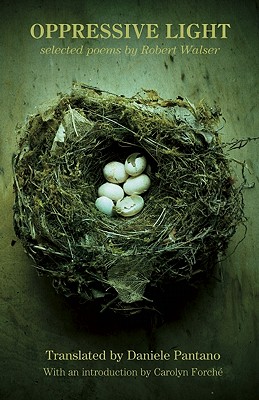 Oppressive Light: Selected Poems (Paperback)
Selected Poems
Black Lawrence Press, 9781936873180, 180pp.
Publication Date: April 10, 2012
* Individual store prices may vary.
or
Not Currently Available for Direct Purchase
Description
Poetry. Translated from the German by Daniele Pantano. Introduction by Carolyn Forche. OPPRESSIVE LIGHT represents the first collection of Robert Walser's poetry in English translation and an opportunity to experience Walser as he saw himself at the beginning and at the end of his literary career as a poet. The collection also includes notes on dates of composition, draft versions the printed poems represent, which volume of the Werkausgabe the poems were first published in, and brief biographical information on characters and locations that appear in the poems and may not be known to readers.
About the Author
Robert Walser: Robert Walser (1878-1956) is one of the most influential authors of modern literature. He was admired by Franz Kafka, Robert Musil, Hermann Hesse, and Walter Benjamin and has been acclaimed "unforgettable, heart-rending" (J. M. Coetzee), "a bewitched genius" (Newsweek), and "a major, truly wonderful, heart-breaking writer" (Susan Sontag). Walser left school at fourteen and led a wandering and precarious existence while producing poems, stories, essays, and three novels: The Tanners (1906), The Assistant (1908), and Jakob Von Gunten (1909). In 1933 he abandoned writing and entered a sanatorium, where he remained for the rest of his life. "I am not here to write," Walser said, "but to be mad."

Daniele Pantano: Daniele Pantano is a Swiss poet, translator, critic, and editor born of Sicilian and German parentage in Langenthal (Canton of Berne). His most recent works include The Possible Is Monstrous: Selected Poems by Friedrich Durrenmatt and The Oldest Hands in the World (both from Black Lawrence Press, 2010). For more information, please visit www.danielepantano.ch.

Carolyn Forche Carolyn Forche received her MFA from Bowling Green State University and is a professor at Georgetown University . She's published four collections of poetry: Gathering the Tribes (1976), The Country Between Us (1982), The Angel of History (1995), and Blue Hour (2004).
Advertisement