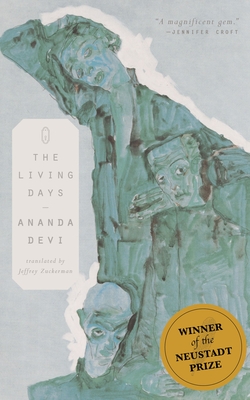 The Living Days
Paperback

* Individual store prices may vary.
Description
This novel of post-9/11 London is a masterful dissection of racism, aging, and the perturbing nature of desire. Ananda Devi's fluid, poetic language memorably conjures a union of two outcasts (The New Yorker).
A chance encounter on Portobello Road incites an unsettling, magnetic attraction between Mary, a seventy-five-year-old white British spinster, and Cub, a thirteen-year-old Jamaican boy from Brixton. Mary increasingly clings to phantoms as dementia overtakes her reality, latching on to Cub and channeling all of her remaining energy into their relationship. But their macabre romance comes to a horrific climax, as white supremacy, poverty, and class conflict explode on the streets of London.
Through exquisite juxtaposition, Devi uses lush prose to confront the tensions of an increasingly nationalistic metropolis, and the queasy nature of desire muddled with power.
"A gorgeously written, profoundly upsetting fairy tale of race, class, power, and desire." --Kirkus Reviews, starred review
Brutal and entirely believable, a gorgeous and haunting depiction of London and the real lives and memories of those unseen within it. --Publishers Weekly
Feminist Press, 9781936932702, 174pp.
Publication Date: November 5, 2019