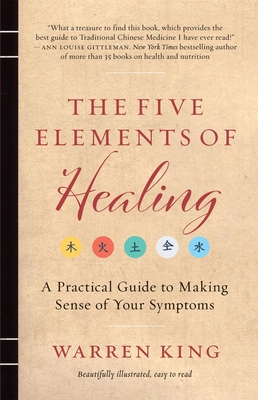 The Five Elements of Healing
A Practical Guide to Making Sense of Your Symptoms
Paperback

* Individual store prices may vary.
Description
"What a treasure to find this book, which provides the best guide to Traditional Chinese Medicine I have ever read "--Ann Louise Gittleman, New York Times bestselling author of 35+ books on health and nutrition What Is Your Body Trying to Tell You? While modern medicine is not yet two centuries old, Chinese medicine has been helping people heal for more than fifty centuries. What was the secret these ancient healers discovered? How to harmoniously balance the five basic energies, or "elements" (earth, metal, water, wood, and fire) that relate to our body's organs and play a key role in our health. Now, in this easy-to-use, color-illustrated guide, healing expert Warren King shows you how to apply this ancient healing wisdom to your own body. You will learn how to make sense of your symptoms and identify the elements and organs you need to focus on to achieve balance and vitality. You can think of your organs, says King, as ten servants who are constantly working to help you stay happy and healthy, positive and full of energy. When things get out of balance--well, they try to let you know. But can you understand what they are saying and connect the dots of your symptoms? In this accessible self-healing handbook, you'll learn the hidden language of the organs and discover ways to self-diagnose and make the amazing connection between each of the five elements and specific symptoms, emotions, and organs. You'll also find effective healing tools, such as the acupressure points, facial diagnosis, exercises, and strengthening herbs, foods, and cooking styles that correspond to each element and will support your areas of weakness. Also includes healthy recipes to give each of your organ systems a boost plus a bonus chapter on how modern toxins (pesticides, preservatives, food additives, and more) affect your body's systems--and what you can do right now to toxin-proof your life. The Five Elements of Healing is the essential self-healing guide for your lifelong path to vibrant health
Lanto Press, 9781936965069, 208pp.
Publication Date: May 3, 2020