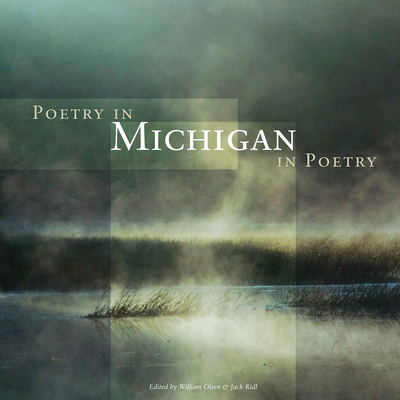 Poetry in Michigan / Michigan in Poetry
Hardcover

* Individual store prices may vary.
Description
Featuring poetry by: Tom Andrews, James Armstrong, Cullen Bailey Burns, Jackie Bartley, Elinor Benedict, Terry Blackhawk, Gladys Cardiff, Susanna Childress, Patricia Clark, David Cope, Jim Daniels, Mike Delp, Toi Derricotte, Chris Dombrowski, Jack Driscoll, Stuart Dybek, Nancy Eimers, Robert Fanning, Mary Jo Firth Gillett, Lisa Fishman, Linda Nemec Foster, Matthew Gavin Frank, Joy Gaines-Friedler, Dan Gerber, Linda Gregerson, Mariela Griffor, Robert Haight, francine j. harris, Jim Harrison, Bob Hicok, Conrad Hilberry, Dennis Hinrichsen, Amorak Huey, Austin Hummell, Lizzie Hutton, David L. James, D. R. James, Rhoda Janzen, Jonathan Johnson, Laura Kasischke, Josie Kearns, Elizabeth Kerlikowske, Judith Kerman, L.S. Klatt, Kimberly Kolbe, David Dodd Lee, Phil Levine, M.L. Liebler, Thomas Lynch, Naomi Long Madgett, Corey Marks, Peter Markus, Dave Marlatt, Gail Martin, Kathleen McGookey, Judith Minty, Ander Monson, Julie Moulds, Amy Newday, William Olsen, Anne-Marie Oomen, Miriam Pederson, Susan Blackwell Ramsey, Greg Rappleye, Josh Rathkamp, Christine Rhein, Jack Ridl, Ron Riekki, John Rybicki, Mary Ann Samyn, Teresa Scollon, Herb Scott, Heather Sellers, Diane Seuss, Patty Seyburn, Faith Shearin, Marc Sheehan, Don Stap, Phillip Sterling, Alison Swan, Keith Taylor, Matthew Thorburn, Russell Thorburn, Richard Tillinghast, Rodney Torreson, Robert VanderMolen, Diane Wakoski, Daneen Wardrop, Angela Williams, and John Woods Featuring art by: Mary Brodbeck, Michelle Calkins, Jean Canavan, Nathan Caplan, Martha Ceccio, Karin Wagner Coron, Steve Coron, Lori Feldpausch, Steve Gilzow, David Grath, Ladislav Hanka, Carol Hanna, Lois Lovejoy, Stephen Magsig, Alanna Pfeffer, Katie Platte, Meridith Ridl, Erin Scott, Craig Seaver, Tom Walsh, Mary Whalen, Nancy Wolfe, and Patrick Young. Cover: "Huron River Mist #2" by Martha Ceccio Designer: Paul Sizer, Sizer Design + Illustration
New Issues Poetry and Prose, 9781936970162, 203pp.
Publication Date: October 1, 2013
About the Author
WILLIAM OLSEN is the author of five collections of poetry, including Sand Theory. He has received fellowships from the Guggenheim Foundation and the National Endowment for the Arts. He teaches at Western Michigan University and lives in Kalamazoo.
JACK RIDL'S collections are Broken Symmetry, recipient of the 2006 Society of Midland Authors Award, Losing Season, and Practicing to Walk Like a Heron. His chapbook, Against Elegies, was selected by then Poet Laureate Billy Collins for the Center for Book Arts (NYC) Award. Jack taught for 38 years and was named Michigan Professor of the Year by the Carnegie Foundation. More than 75 of his students are now published authors.
or
Not Currently Available for Direct Purchase