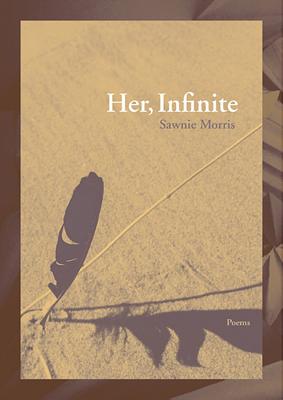 Her, Infinite
Paperback

* Individual store prices may vary.
Description
Her, Infinite performs a metaphysical, yet-grounded-in-daily-life ceremony in which the magical properties of language meet with political action. The poems enact a healing, with the poet as note-taker and celebrant, making her way through a labyrinth that begins with community action, conceived in mythic terms, spirals though the intimacies of erotic love and friendship under environmental peril, and returns after a descent that involves self-confrontation as well as surrender to the invisible forces that guide our lives. The speaker in these poems takes the reader on a search for a worldview that can hold both beauty and terror, while singing in praise of creation.
New Issues Poetry and Prose, 9781936970414, 101pp.
Publication Date: March 1, 2016
About the Author
SAWNIE MORRIS has been the recipient of a Poetry Society of America George Bogin Memorial Award and, for her chapbook in The Sound a Raven Makes (Tres Chicas Books, 2006), a co-winner of the New Mexico Book Award. Her writing about poetry and poets has won a Texas PEN Literary Award and has appeared in Kenyon Review, Contemporary Literary Criticism, and the Boston Review. She is a co-founder of Amigos Bravos: Because Water Matters, a non-profit advocacy organization for the waters of New Mexico, and she is a frequent contributor and past Book Review & Essay Editor for Taos Journal of International Poetry & Art. Sawnie lives in northern New Mexico with her husband, the artist and environmental activist Brian Shields. Her, Infinite was a finalist for fifteen national contests prior to selection for the New Issues Poetry Award.
or
Not Currently Available for Direct Purchase