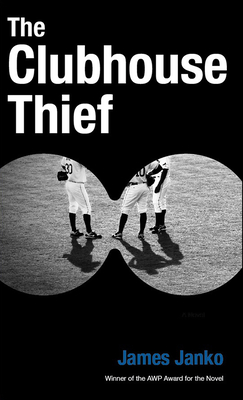 The Clubhouse Thief
Paperback

* Individual store prices may vary.
Description
"Part of me wanted to quit, let the Red Birds hammer us, and slink away to hibernate all winter. I had that old feeling of worthlessness running through me, and sadness, too. A coach, whatever his age, should be a reservoir of hope, but I, in my Cub heart, boarded a shipwreck, my own Titanic, and awaited the dark plunge into the familiarity of loss." Billy Donachio, an aging coach for the Chicago Cubs, has never had a lucky day let alone a lucky year. Every team he has been part of and everything he has ever cared about has ended up in the dumps. When at last he's able to be a part of a winner, a Chicago Cub team on the cusp of World Series victory, Billy struggles with neurosis. A thief, a kleptomaniac, he loots the lockers of his star players and comes away with notes, letters, a neighborhood newspaper, a photograph, a computer disc. By accident, Billy receives an education. Chicago Magazine "A shut-In's Guide to Winter" (January 2018 ed.) recommends The Clubhouse Thief to get you through winter!
New Issues Poetry and Prose, 9781936970513, 308pp.
Publication Date: January 16, 2018
About the Author
JAMES JANKO refused to carry a weapon while serving in Viet Nam as a medic in an infantry battalion commanded by Colonel George Armstrong Custer III. His medals include the Bronze Star for Valor, which he returned to the U.S. government in 1986 to protest their military involvement in Central America. In 2008, Janko gave away other medals to Vietnamese victims of Agent Orange: Mrs. Dang Hong Nhut, who suffers from thyroid cancer and has had numerous miscarriages, and Ms. Tran Thi Hoan, who was born without legs due to her mother's exposure to the chemical. Janko's short stories have appeared in The Massachusetts Review, The Sun, and many other magazines. He won a 2002 Illinois Arts Council Award for Fiction, and his earlier novel, Buffalo Boy and Geronimo, received wide critical acclaim and won the Association of Asian American Studies 2006 Prose Award and the 2007 Northern California Book Award for Fiction. He lives in La Salle, Illinois.
or
Not Currently Available for Direct Purchase