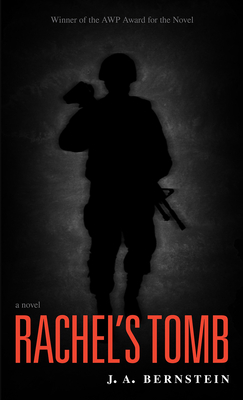 Rachel's Tomb (Paperback)
New Issues Poetry and Prose, 9781936970582, 261pp.
Publication Date: April 15, 2019
* Individual store prices may vary.
Description
"Rachel's Tomb is a deftly ambitious novel about young soldiers in the Israeli Defense Forces and the loved ones they've left behind. It brings to life with great artistry a diverse cast of secular and religious Jews, Arabs, Russian and Ethiopian immigrants, soldiers and civilians—a complex image of Israel. The book's absurdist humor gracefully counterpoints the waste, loss, and early sorrow faced by its indelibly drawn characters."—Zachary Lazar
"Rachel's Tomb is at once profound, moving and deeply engaging, a novel that puts you right in the middle of one of the world's most ancient and intractable conflicts." —T. C. Boyle
"There's no shortage of complexity in Bernstein's book—politically and emotionally—but the writing is so clear and engaging that it allows the layers to emerge with a beautiful lucidity, and for the reader to live and think alongside them. There is a deep thoughtfulness on every page of this notable debut."—Aimee Bender
"From the commander's seat (a toilet) at Rachel's Tomb Outpost, Joshua Bernstein creates a multi-narrational novel that plumbs the nature of war with humor, compassion, and an astounding historical depth, one that ricochets from the sacred to the profane in a trigger's stroke. He writes about war from the inside and creates complex characters that are often as joyously imperiled as an e.e. cummings line: 'death's clever enormous voice which hides in a fragility / of poppies…' —A complex and moving novel that confronts the loss of innocence and profoundly questions notions of temporality."—Mark Irwin
"Rachel's Tomb marks the arrival of an important new voice in American letters. J. A. Bernstein writes with power and sympathy and an unerring eye, in prose of crackling intensity. This is a magnificent first novel. I eagerly await the next."—Steve Yarbrough
About the Author
J. A. Bernstein is the author of a forthcoming story collection, Stick-Light (Eyewear) and a forthcoming chapbook, Desert Castles (Southern Indiana Review), which won the Wilhelmus Award. His work has appeared in Boston Review, Kenyon Review Online, Chicago Quarterly Review, and other journals. His honors include the Hackney Novel Prize, a Fulbright Scholarship, and the Gunyon Prize at Crab Orchard Review. A Chicago-native, he teaches in the Center for Writers at the University of Southern Mississippi.