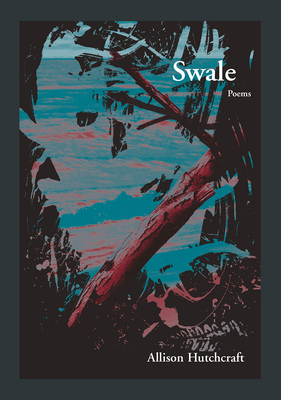 Swale
Paperback

* Individual store prices may vary.
Description
This collection is named for a "swale," a shallow channel used to direct the flow of rainwater. Similarly, Swale looks outward to the natural world and directs its focus inward to the landscape of the mind. The past presses in like a thick mist: plundering colonial ships and the cracking edges of empire coincide with contemporary scenes and personal erosions and failures. Alongside humans are animals both living and extinct: manatees, sea turtles, and whales; roaming bears, horses, and lambs; and the flightless dodo and Steller's sea cow, gone for centuries. What happens when the mind eclipses what the body sees, and neither can be trusted—when demarcations between land and water blur, and one's sense of self begins to recede?

Swale interrogates the violence of colonialism and its reverberations over time, as well as the extinction and the rapid decline of animal species. By turns tidal and cloistered, Swale speaks of science, reliquaries, and lapis lazuli, traversing forests, seascapes, and meadows. Here, the ocean becomes a field, a medieval tapestry transforms into a space that can be entered, and the body is fleshless, struck through with light. The speaker of these poems is ultimately unfixed—and with that comes both imaginative possibility and a personal unmooring. In poems that cast and recast the interior self in different guises—from the perpetually off-kilter Alice to the divergent voices of the shorn lamb and predatory foxhound—an unsettling anxiety grows starker, along with the wish for repair.
Praise For Swale…
"I feel both shaken and repaired by the alertness of Allison Hutchcraft's poems. The announcement 'When I swale, I cannot/tell border from border' describes her art and where it carries us. Swale takes on the desire of the mind to land and activates new imaginative pathways to disorient the mind from its disorders. Her poems—beautiful and riveting—are excavations, topographies, and tectonic shifts all at once." 
— Mary Szybist, author of Incarnadine

"This is a splendid book. But when this poet says 'I look/at the ocean and see only the ocean,' do not believe her. Know instead how unnerving and strange and revealing her poems are about human time and love and loss through brilliant observations about the natural world (think: whales, otters, seabirds of oil slick or not, woodpeckers, crows, nuthatches, even extinct creatures like the heart-stopping long lost dodo.) Enormous empathy lives in this book, plus time-travel's feel for past centuries where sailors in tall ships suffered (or were gifted) with 'calenture,' an affliction bringing on visions of the sea as a welcoming, irresistible 'meadow silent/but for the ticking of insects.' Where we can walk too—and fall into deep imagining as startlingly real as 'submerged/grasses swaying like the drowned/hair of a doll.' Did I say these poems are strange? Yes. As genuine beauty is."
— Marianne Boruch

"Swales direct and slow the flow of rainwater, and this collection directs the reader's attention to the ways that the natural world has indelibly shaped our human consciousness and, in turn, the ways we have attempted to trap and tame the natural. In these poems, manatees turn to mermaids through sailors' lore, priests weather Orinoco rainforests in the hopes of colonizing its inhabitants, and foals' legs are taped to facilitate their breaking. 'The animals we love most / we put in cages,' Hutchcraft writes, and yet everywhere the natural finally evades our capture. Hutchcraft examines the delicate balance between rapture and ravishment, in poems as ambitious as they are beautiful." 
— Paisley Rekdal
New Issues Poetry and Prose, 9781936970681, 80pp.
Publication Date: November 26, 2020
About the Author
AllisonHutchcraft's poems have appeared or are forthcoming in Boulevard, Cincinnati Review, the Gettysburg Review, Kenyon Review, the Missouri Review, and the Southern Review, among other journals. She teaches creative writing at the University of North Carolina, Charlotte.
or
Not Currently Available for Direct Purchase