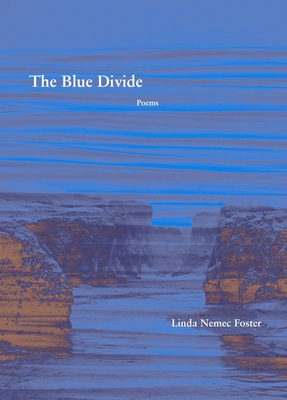 The Blue Divide
Poems
Paperback

* Individual store prices may vary.
Other Editions of This Title:
Paperback (4/15/2021)
Hardcover (1/1/2015)
Description
The poems in this powerful new collection explore the history of conflict and resilience—whether it occurs during the Nazi occupation of Poland, the Balkan wars in Bosnia and Croatia, or within the intimate tableaux of a family's dissonance. Weaving poems into three distinct sections, Linda Nemec Foster pays close attention to not only what divides us, but also to what can heal and redeem our common journey: an artist's notebook; the imagined life of Mary Magdalene; a fascination with Mount Fuji; a mother's obsession with vintage movie stars; a dead father's love. The Blue Divide resonates with the landscape of the world and the landscape of the heart.
Praise For The Blue Divide: Poems…
"Women learning to sing again after a war. Immigrants learning a new world and language while trying not to forget the old. The Seven Deadly Sins as fashion statements. A train ride into the afterlife. A woman putting on red lipstick in a colorless city. Mary Magdalene eyed through a modern lens. A daughter calling her dead father in a dream. In The Blue Divide, Linda Nemec Foster navigates the edges and depths of worlds both here and beyond—through currents of art, love, war, dreams, religion, history, language, family—to map what flows between us. Testimonial to human endurance and love song to the human spirit, this gem of a book, retrieved from the deep by a poet at the height of her prowess, is as wide as a 'cavalcade of blue sky' and as deep as 'the blue damask of morning.' Hold these poems up to the light to see the wide blue world (and the world in you) changed, for good."
— Robert Fanning, author of The Seed Thieves, American Prophet, Our Sudden Museum, and Severance

"Linda Nemec Foster's poems flex their powerful muscles in this dynamic new collection. With clarity and intensity, she dives deep into the shadows, and deep into the light—global landscape, personal touch; faith and art; the sensual and the cruel; forward and backward through generations of family, acknowledging loss wherever it occurs—all with her trademark tenderness and resilience. I am always interested in whatever she has to say; she is always paying attention, pointing out the places where the heart breaks, and where it mends."
— Jim Daniels

"The Blue Divide: between Old Country and New; war and peace; song and silence; sea and sky; past and present; reality and perception; art and life; husband and wife; sun and storm; memory and forgetting. These are a few of the borders (and borderlands) Linda Nemec Foster explores in her twelfth collection of poems, in a voice straightforward but deepened by emotion and experience. She is both a tourist and an inhabitant everywhere: whether in Warsaw, Cleveland, Sarajevo, New York City, Geneva, Poughkeepsie, Oahu, or Ypsilanti, Foster finds the stuff of poetry and makes it real and tangible. From 'the thin line of horizon,' she reminds us that 'everything/everything is connected. Whether/we can dare to believe it or not.'"
— Laurel Blossom

"Rich with closely observed detail, narrative depth, and poignant historical reflections, this is a generous and beautiful collection."
— Publisher's Weekly
New Issues Poetry and Prose, 9781936970728, 74pp.
Publication Date: May 20, 2021
About the Author
Linda Nemec Foster is the author of eleven collections of poetry, including Amber Necklace from Gdansk and Talking Diamonds. She is also the coauthor of The Lake Michigan Mermaid with Anne-Marie Oomen. Her work has been published in numerous magazines and journals, including the Georgia Review, Nimrod, Quarterly West, Witness, New American Writing, North American Review, and Verse Daily. From 2003 to 2005, she served as the first Poet Laureate of Grand Rapids, Michigan. Foster is the founder of the Contemporary Writers Series at Aquinas College.
or
Not Currently Available for Direct Purchase