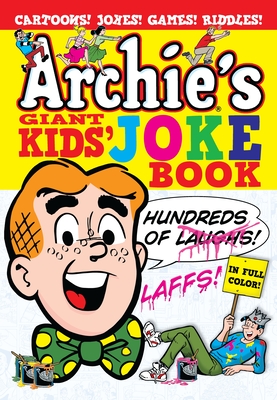 Archie's Giant Kids' Joke Book (Paperback)
Archie Comic Publications, 9781936975280, 192pp.
Publication Date: November 13, 2012
Description
Join Archie and his friends in the funniest, silliest kid-friendly collection of cartoons, jokes and riddles ever The laughs don't stop in page after full-color page of groaner puns, crazy comebacks, and silly riddles. Match wits with "Guess the Gag"--can you figure out the punchline? You won't want to put this book down, unless you're worried about bending the pages while you're rolling on the floor laughing Value-priced at $6.99 for 192 full-color pages, it's the ultimate casual-reading Archie collection
About the Author
THE ARCHIE SUPERSTARS are the impressive line-up of talented writers and artists who have brought Archie, his friends and his world to life for more than 70 years, from legends such as Dan DeCarlo, Frank Doyle, Harry Lucey, and Bob Montana to recent greats like Dan Parent and Fernando Ruiz, and many more!
Advertisement