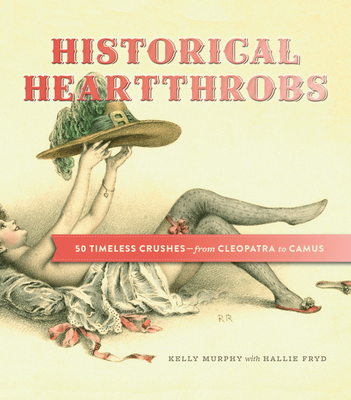 Historical Heartthrobs
50 Timeless Crushes-From Cleopatra to Camus
Hardcover

* Individual store prices may vary.
Description
History is about much more than dusty books, dreary dates, and long-forgotten battles. History is also about sex appeal!
Historical Heartthrobs
compiles photos and life stories of 50 of the sexiest men and women from history and asks the essential question: Would you really want to date them? Consider George Sand, for instance. She was the hottest thing in pants in nineteenth-century France, but would you really want to put up with all that smoking? Or what about Nikola Tesla? His utter brilliance made Victorians swoon, but he seemed incapable of swooning back. Would you endure his indifference in return for that incredible smile?Each entry in
Historical Heartthrobs
includes a full-page photo, contemporary quotes, and an in-depth explanation of who these people were, why they mattered, and how they managed to be so seductive.Entries also include:
Vital stats about the hottie's place of birth, lifespan, and major areas of influence.
The inside scoop on peccadilloes, noteworthy liaisons, and long-standing relationships.
An overall heat reading that factors in sex appeal, charisma, accomplishments, and of course, moral virtue. (Points are docked for brutality and rudeness!)
Everyone included here made their mark on the world—but not everyone did so in an equally admirable fashion. John Wilkes Booth was definitely good-looking, but racist assassins don't generally make for the best life partners. Nellie Bly, on the other hand, did more in her average year than most people do in a lifetime—and she happened to look like a model, too. So review their records, check out their photos, and choose the hottie who makes you swoon.
Praise For Historical Heartthrobs: 50 Timeless Crushes-From Cleopatra to Camus…
"A fun book for any reader, with a balanced mix of historical anecdotes, romantic trivia, and witty, accessible writing." -ForeWord Reviews
"(A) broad-ranging, tongue-in-cheek guide to the hotties of history….With engrossing photos, lively quotations, and witty writing, it's "the complete package"—just like Nellie Bly." -Publishers Weekly
"Surely a tantalizing start for a beginning researcher." -Booklist
Zest Books, 9781936976102, 224pp.
Publication Date: January 7, 2014
About the Author
Pennsylvania-born Kelly Murphy has written articles for Brokelyn, Brooklyn Based, Chic Today, NCTE's The Council Chronicle, and various other publications. Kelly graduated from Pennsylvania State University with a degree in English and has worked in publishing.
 
or
Not Currently Available for Direct Purchase