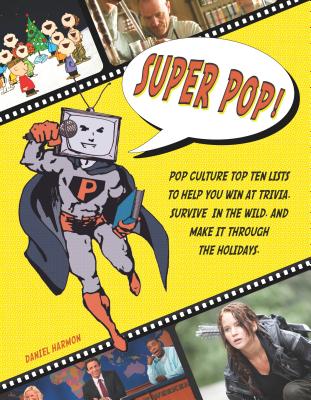 Super Pop!: Pop Culture Top Ten Lists to Help You Win at Trivia, Survive in the Wild, and Make It Through the Holidays (Paperback)
Pop Culture Top Ten Lists to Help You Win at Trivia, Survive in the Wild, and Make It Through the Holidays
Zest Books, 9781936976362, 288pp.
Publication Date: June 4, 2013
* Individual store prices may vary.
or
Not Currently Available for Direct Purchase
Description
Super-Pop offers a maximum-pleasure, minimum-effort way to become smarter, happier, and more likely to survive your next family function (or a shark attack). This hilarious and wide-ranging guide sorts nearly 500 different bestsellers, blockbusters, and underappreciated gems into quirky top ten lists, like "Outwit Death: Essential Lessons in Survival," and "Achieve Mindfulness: Movies That Will Show You the Way (With Wise Elders Now Included)." So whether you're looking for some motivational workout music, need help planning a July 4th double feature, or just want to pick up some knowledge without straining your brain, this book has you covered. With new insights on old classics and fresh ideas for jaded eyes, Super Pop makes sense of pop culture - and then puts pop culture back to work.
About the Author
Daniel Harmon is the editorial director at Zest Books, and a longtime editor of pop culture projects for a variety of publishers. He is a former staff writer at Brokelyn.com, and the author of an essay about Tommy Wiseau's film The Room, which was published in the anthology Cult Pop Culture (2011).
Praise For Super Pop!: Pop Culture Top Ten Lists to Help You Win at Trivia, Survive in the Wild, and Make It Through the Holidays…
"Super Pop is as snappy as its title—a wonderful gateway to broadened horizons for current and future pop culture obsessives."
—Matt Zoller Seitz, New York Magazine, television critic
  "Thanks to Super Pop, you'll never be caught without a pop culture recommendation—or ten—to fit every social setting (and fill many weekday nights at home as well)."
—Ethan Alter, Television Without Pity, film critic
  "Super Pop is the Holy Grail for ALL your social and antisocial needs. Daniel Harmon's book is smarter than your average bear, funnier than your average LOLcat, and more useful than a dozen remote controls. In a top ten list of the top ten "top ten" books, Super Pop goes straight to number one."
—Nancy Holder, New York Times bestselling author of Buffy: The Making of a Slayer
Advertisement