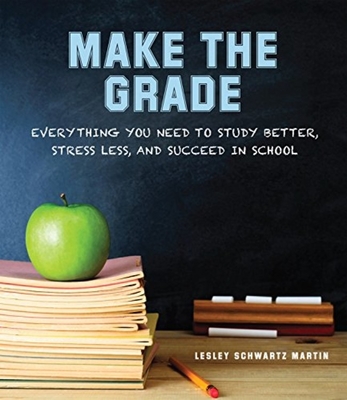 Make the Grade (Paperback)
Everything You Need to Study Better, Stress Less, and Succeed in School
Zest Books, 9781936976386, 144pp.
Publication Date: July 9, 2013
* Individual store prices may vary.
Description
Tips, tricks, and advice for students looking to get organized, study better, and gain more control over their academic lives.
About the Author
Lesley Schwartz Martin is a professional teen academic coach and tutor. She is the creator of a customized academic planner used in Bay Area schools, and is the coauthor of Where's My Stuff: The Ultimate Teen Organizing Guide.
Praise For Make the Grade: Everything You Need to Study Better, Stress Less, and Succeed in School…
IndieFab Award Finalist
"Help is on the way for teens wanting to do better in school. . .this can be a valuable guide for tutors, academic coaches and teachers of study-skills courses looking for a systematic and informative handbook. An earnest, comprehensive and 'everything-you-need' compendium." —Kirkus Reviews
"How many times do students realize they have misplaced, forgotten, or simply ignored an important assignment? Or blow off preparing for a big test? Using her background as a high-school social-studies teacher, Martin offers solutions for the ever more demanding job of balancing high school and extracurricular activities. From setting goals to learning about expectations, and from getting organized to acing the test, her ideas are practical, straightforward, and easily implemented—if a student is motivated to follow them. Of particular interest are the chapters "Working the Classroom" and "What to Learn and How to Learn It." Individual students with natural initiative might pick up this book, read it, and take the suggestions to heart. Less motivated students, however, might need to be persuaded to give it a chance. Used as part of a study skills course, the book could reach a broad audience of students, many of whom could benefit from Martin's suggestions." —Booklist
"Help is on the way for teens wanting to do better in school. . .this can be a valuable guide for tutors, academic coaches and teachers of study-skills courses looking for a systematic and informative handbook. An earnest, comprehensive and 'everything-you-need' compendium." —Kirkus Reviews
"How many times do students realize they have misplaced, forgotten, or simply ignored an important assignment? Or blow off preparing for a big test? Using her background as a high-school social-studies teacher, Martin offers solutions for the ever more demanding job of balancing high school and extracurricular activities. From setting goals to learning about expectations, and from getting organized to acing the test, her ideas are practical, straightforward, and easily implemented—if a student is motivated to follow them. Of particular interest are the chapters "Working the Classroom" and "What to Learn and How to Learn It." Individual students with natural initiative might pick up this book, read it, and take the suggestions to heart. Less motivated students, however, might need to be persuaded to give it a chance. Used as part of a study skills course, the book could reach a broad audience of students, many of whom could benefit from Martin's suggestions." —Booklist
or
Not Currently Available for Direct Purchase