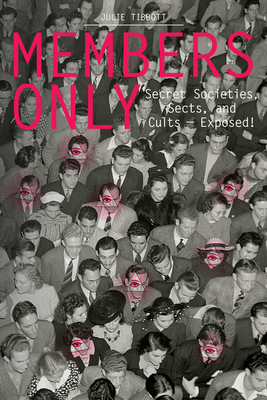 Members Only
Secret Societies, Sects, and Cults Exposed!
Paperback

* Individual store prices may vary.
Description
Throughout human history, people have banded together to pass on traditions, climb the social ladder, and often just have a good time. And sometimes, keeping other people out is part of the fun. (Every hot club needs a velvet rope, after all.) But some of these groups have proved so exclusive and secretive that we on the outside can't resist some speculation. Wouldn't you like to know what they're really up to? No need for secret handshakes or passwords— Members Only is your all-access guide to the secret societies, clandestine cults, and exclusive associations that you've always wondered about. Profiling over fifty groups, from the centuries-old Freemasons to the snooty Skull and Bones Society to a club just for magicians, this book reveals the secrets of these mysterious organizations — and even tells you how to join up. Get ready to go underground and explore secret worlds that are sometimes shocking, sometimes frightening, and always fascinating.
Zest Books, 9781936976522, 224pp.
Publication Date: February 3, 2015
About the Author
Julie Tibbott is an editor of teen fiction at a major publishing house. She lives on New York City's Lower East Side, once home to many organized crime syndicates, street gangs, and underground anarchists. She's not a member of any secret societies . . . or is she?
or
Not Currently Available for Direct Purchase