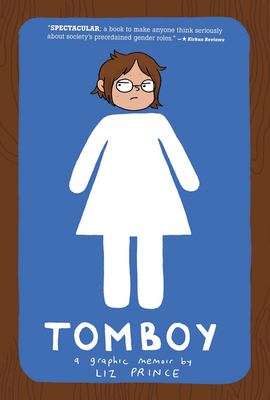 Tomboy
A Graphic Memoir
Paperback

* Individual store prices may vary.
Other Editions of This Title:
MP3 CD (7/19/2016)
Compact Disc (7/19/2016)
Description
Growing up, Liz Prince wasn't a girly girl, dressing in pink tutus or playing Pretty Pretty princess like the other girls in her neighborhood. But she wasn't exactly one of the guys either, as she quickly learned when her Little League baseball coach exiled her to the outfield instead of letting her take the pitcher's mound. Liz was somewhere in the middle, and Tomboy is the story of her struggle to find the place where she belonged.
Tomboy
is a graphic novel about refusing gender boundaries, yet unwittingly embracing gender stereotypes at the same time, and realizing later in life that you can be just as much of a girl in jeans and a T-shirt as you can in a pink tutu. A memoir told anecdotally,
Tomboy
follows author and zine artist Liz Prince through her early childhood into adulthood and explores her ever-evolving struggles and wishes regarding what it means to "be a girl."From staunchly refuting anything she perceived as being "girly" to the point of misogyny, to discovering through the punk community that your identity is whatever you make of it, regardless of your gender,
Tomboy
is as much humorous and honest as it is at points uncomfortable and heartbreaking.
Praise For Tomboy: A Graphic Memoir…
AWARDS:Kirkus Reviews Best Books of 2014 list * Texas Library Association (TLA) Maverick Graphic Novels List 2015 * YALSA Great Graphic Novels for Teens 2015 nomination * Amelia Bloomer Project 2015 nomination * YALSA Quick Picks 2015 nomination * Cybils Awards 2014 nomination * Teen Choice Book of the Year Awards nomination * Broken Frontier Awards nomination
PRAISE: 
*Starred Review* "Prince explores what it means to be a tomboy in a magnificently evocative graphic memoir. ...Simple, line-based art provides a perfect complement to her keen narration, giving this an indie, intimate feel and leaving readers feeling like they really know her. Liz's story, captured with wry humor and a deft, visceral eye, is a must-read for fans who fell for Raina Telgemeier's work in middle school. Spectacular; a book to make anyone think seriously about society's preordained gender roles." - Kirkus Reviews

*Young Adult Lit-Pick* "The heroine of this charming, gently subversive graphic memoir loves Little League and hates dresses, so what does she grow up to be? Gloriously herself." - People Magazine

"Prince's tongue-in-cheek black-and-white line drawings, in a charming style reminiscent of Jeffrey Brown's autobiographical comics, pack a punch in this empowering memoir that should have ample appeal for any kid who feels like an outsider." - Booklist
"A great read for those who were tomboys and those who simply love great graphic novel memoirs." - The Hub, Young Adult Library Services Association (YALSA)

"Any girl who grew up with big love for sports, skate shoes, and/or giant, shape-obscuring T-shirts will know how contentious it is when you don't fit the flawlessly feminine formula of the "average teen girl." This is why Liz Prince's latest graphic novel, Tomboy, is a fantastic primer on gender politics. Through a series of hilarious and heartbreaking episodes from her youth, Prince examines just why being comfortable in her own skin—and sweatpants—made everyone around her so freaking uncomfortable. It makes being a tomboy a political statement." - Rookie

"Liz Prince has been a cult and beloved figure in the world of comics for awhile, and in her autobiographical book Tomboy: A Graphic Memoir, she discusses the subject of growing up, in her inimitable, honest and simple style ... makes for a fascinating look at what "identity" means in the process of growing up." - Flavorwire

"At its core, Tomboy is a book about the often painful consequences of finding and expressing one's individuality despite the pressure to conform. What makes this memoir stand out is Liz's brave and humorous outlook—her refusal to capitulate in even the most distressing of situations." - The Book Trib

"Prince's art takes this book from good to knock-out. Where a memoir about gender expression and identity is always welcome, the way Prince uses illustrations to really showcase those feelings and experiences visually takes this to an entirely new and memorable level. Buy this one. Read it, then reread it, then pass it along to teens and adults who are interested in discussing or who have experienced the challenges of our society's deep-seeded beliefs in gender." - Book Riot

"One of the reasons Tomboy works so well is that it is done in comic form. It is one thing to read a story and to follow dialogue, but it is another thing to actually get to see the small triumphs and daily challenges and indignities depicted visually, and that is something that Prince drawings skillfully capture." - About.com

"The triumph of her story, and of Liz herself, is that she was always strong enough to be who she was even when it might have been easier to just play a part. It's an enjoyable and even comforting read as you find yourself rooting for Liz to find the acceptance you know a smart, funny, confident person like her will eventually find. ….A lot of younger readers could benefit from reading the book's lessons about self acceptance and what it means to be a girl." - Mental Floss

"In her new graphic memoir (think comic book meets autobiography), Tomboy, Prince details her early years in words and pictures--and the result is both bleakly funny and achingly relatable. ...Prince's simple pen-and-ink drawings perfectly exemplify her plucky nature and slyly complement her feminist message: When we propagate the notion that there's only one version of "womanhood," we limit the creative potential of girls everywhere." - PureWow

"Relatable, hilarious, and insightful, Tomboy is a must-read for anyone who feels like a square peg in a round hole." - Bookish

"An intriguing portrait of growing up as a gender-nonconforming girl in a world fixated on the gender binary. ...Prince's story is a testament to the joys of finding one's place in a world so adamant about finding that place for you. And it's a story that, filled with self-deprecating humor and a flowing narrative, is easy to finish in one sitting. But perhaps Tomboy's success lies most in its ability to get you to contemplate your own experiences growing up—swimming with your shirt on, searching for that special valentine, navigating social anxiety—and the ways in which we have all transgressed, and perpetuated, our society's rigid definitions of what it means to be a girl or a boy." - Willamette Week

"Part hilarious, part heartbreaking and part hopeful, this graphic memoir covers the challenges of growing up and being different. ...Just like Liz, this novel is sure to stand out against the crowd. Tomboy is a story readers aren't likely to forget." - Teenreads.com

"Everyone is in agreement that Liz totally killed it with this book." - Atomic Books

"Liz Prince tells gender norms to eat dirt. A delightful, thoughtful, and compulsively readable memoir. And an important one." - Ariel Schrag, author of Adam and Potential 
"Liz Prince may have been an uncertain, confused kid, but she's a confident and sincerely expressive cartoonist. Tomboy is a funny and relatable look at what every child has to deal with at some point—figuring out who you really are inside, when everyone else only sees what they think you should be on the outside." - Jeffrey Brown, author of Clumsy, Jedi Academy and Darth Vader and Son
"It's hard to imagine anyone failing to be charmed by this entertaining, clever, and genuinely funny memoir of growing up with gender identity confusion. Even this pretty unconfused regular old dude found plenty to identify with in Liz Prince's story of adolescent bafflement, exploration, and discovery—all delivered, like all the best such stories, with a light touch, wry wit, understated irony, and not one iota of preachiness. Meaning: I'm a fan. Go Liz!" - Frank Portman, author of King Dork 
"Tomboy is a thoughtful, honest look into the evolution and acceptance of personal gender identity, as told by a smart-mouhed punk named Liz Prince. I wish it had existed when I was in high school." - Nicole Georges, author of Calling Dr. Laura
"Liz Prince portrays the awkwardness and humiliation of childhood with wonderful (not to mention painful) accuracy. Any kid that picks up this book is going to be privy to secrets most of us don't learn until it's too late, and any adult who reads it will be reminded of an essential truth: that's it's okay to be exactly who we want to be, no matter how weird everyone else thinks we are. Tomboy isn't a self help book, but it should be."- Julia Wertz, author of Drinking at the Movies and The Infinite Wait  
"It's not very often you read a goofy coming-of-age comic written with an astutely critical lens... and then there's Liz Prince's Tomboy. By tackling everything from Green Day to girl-hate, Prince does a kick-ass job at dissecting gender politics (and playground politics) through riotous anecdotes from her childhood, making this feminist inquiry, well, fun." - Suzy X., illustrator at Rookie Mag 
"Navigating life as a young tomboy would have been a lot easier if I'd had Liz's brave, hilarious, and honest story to guide me. Reading this book will make weird kids like us feel a little less alone." - Melissa Mendes, author of Freddy Stories
Zest Books, 9781936976553, 256pp.
Publication Date: September 2, 2014
About the Author
Liz Prince's first book, Will You Still Love Me If I Wet the Bed?, was nominated for several awards and won the Ignatz Award for Outstanding Debut in 2005. Born in Boston, MA, she grew up in Santa Fe, NM, and has been drawing comics since the third grade. She has since produced many of her own comics and mini-comics, which mix her real-life foibles with charming cartooning and comic timing. Fans have described her work as being "cute," making them feel "warm and fuzzy," or simply being "too much information." She now lives outside of Boston and drinks more than her fair share of coffee.