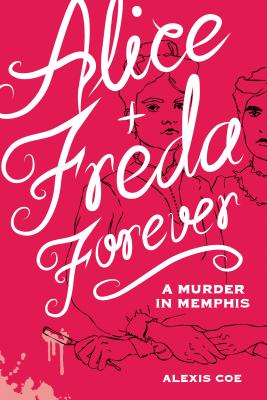 Alice + Freda Forever
A Murder in Memphis
Hardcover

* Individual store prices may vary.
Other Editions of This Title:
Digital Audiobook (1/20/2020)
Description
In 1892, America was obsessed with a teenage murderess, but it wasn't her crime that shocked the nation—it was her motivation. Nineteen-year-old Alice Mitchell had planned to pass as a man in order to marry her seventeen-year-old fiancée Freda Ward, but when their love letters were discovered, they were forbidden from ever speaking again.

Freda adjusted to this fate with an ease that stunned a heartbroken Alice. Her desperation grew with each unanswered letter—and her father's razor soon went missing. On January 25, Alice publicly slashed her ex-fiancée's throat. Her same-sex love was deemed insane by her father that very night, and medical experts agreed: This was a dangerous and incurable perversion. As the courtroom was expanded to accommodate national interest, Alice spent months in jail—including the night that three of her fellow prisoners were lynched (an event which captured the attention of journalist and civil rights activist Ida B. Wells). After a jury of "the finest men in Memphis" declared Alice insane, she was remanded to an asylum, where she died under mysterious circumstances just a few years later.

Alice + Freda Forever recounts this tragic, real-life love story with over 100 illustrated love letters, maps, artifacts, historical documents, newspaper articles, courtroom proceedings, and intimate, domestic scenes—painting a vivid picture of a sadly familiar world.

Praise For Alice + Freda Forever: A Murder in Memphis…
HONORS: Cybils Awards Finalist * Teen Choices Book of the Year Award nomination * Over the Rainbow Book List Nominee * Amazon Book of the Month * Oyster Book of the Week * 2014 IPPY Gold Winner

PRAISE:
*Starred Review* "This is a captivating account, and readers will quickly become absorbed in the suspense surrounding Freda's murder. Additionally, the book provides a foundation for discussion of sociocultural themes, such as how LGBT relationships have historically been viewed by society, gender and femininity, and even journalism." - School Library Journal

"The murder was a national sensation at the time, but is little known today. ....Alexis Coe retells it here with the color and liveliness of a novel. Her account is accompanied by illustrations of the people, scenes, and artifacts that populate this story of forbidden love." - Andrea DenHoed, The New Yorker

"This is an astonishing look at love as tsunami, the wild violence of passion, and a young woman undone by her own heart." - Caroline Leavitt, San Francisco Chronicle

"The story of a Gilded Age-era homicide that stunned a nation with its sheer violence and tabooed origins. Haunted for years about the case, media columnist and historian Coe chronicles a 19th-century, Memphis, Tennessee-based ordeal of coldblooded murder and the jilted lesbian love that inspired it. … A historically resonant reminder of how far societal tolerance has come and that it still remains a work in progress." - Kirkus Reviews

"[A] lively, provocative history….a well-written effort that makes the most of its source material on two levels, both as true crime and as social commentary" - Publishers Weekly

"This thoroughly researched exposé considers a murder that took place in Victorian-era Memphis. …This selection might attract fans of true crime, such as Erik Larson's Devil in the White City (2003), although the content concentrates more on the historical setting than intrigue or suspense. This could also serve as a gritty rebuttal to idealized period romances extolling the virtues of demure and genteel femininity." - Booklist

"VERDICT: Highly recommended as an insightful exploration of an important historical true crime and a solid introduction to narrative nonfiction." - Library Journal

"Alice + Freda Forever is the vital combination of a sensational story and a remarkable treasure of historical research featuring lesbian lust, laudanum, and laceration....Coe has given us a bloody, interesting chapter in America's hidden history of "pathological love." - Preston Lauterbach. Oxford American

"Alexis Coe's intricately researched, nonfiction Alice + Freda Foreverdepicts the destructive power of love. …Reminiscent of Peter Jackson's film Heavenly Creatures (which in turn was based on actual events), an account of two teenagers who are compelled to murder to protect their intense, almost incestuous friendship, Alice + Freda Forever will not only attract teens and adults alike for its gripping treatment of love gone dreadfully wrong—it will force them to think critically from both a historical and sociocultural perspective."- School Library Journal, Curriculum Connections

"Coe's narrative covers the perceptions of sexuality, women's role in society, racial hierarchy, media manipulation, and even mental health, but she never strays too far from the heart of the story: the tragic romance between two women forty years before the word lesbian would be in circulation" - Justin Alvarez, The Paris Review

*A Must-Read Book for the Fall* "A case of a teenage murderess and a forbidden love? This real life tale by historian and columnist for The Toast has it all. Based on rich research, including the love letters between Alice and Freda, their relationship was going to break boundaries, until it ended in tragedy. Gripping and fascinating." - Flavorwire

"Alexis Coe's historical nonfiction Alice + Freda Forever tells the real — and tragic — story of 19-year-old murderess Alice Mitchell, who in 1892 killed the young woman she was engaged to when they were forced apart after their relationship was discovered. The book includes 100 illustrated love letters, maps, artifacts, historical documents, newspaper articles, courtroom proceedings, and intimate domestic scenes." - Popsugar, Books We're Dying to Read

"With Alice and Freda Forever, Alexis Coe takes this fascinating true tale and brings it to literary life through love letters, newspaper articles, courtroom testimonies, maps, and school catalogs — all culled into one vivid narrative. With shimmering prose, careful research, and eloquent analysis, Coe weaves an absorbing tale of crime and passion, violence and discrimination, gender and femininity, lust and the all-consuming power of love — a tale that gives these teenage lovers a voice to echo above the clamor of a scandal." - Bustle

"Alice and Freda's tragic story gives a fascinating glimpse of 19th Century America's attempts to comprehend passion it has no language to acknowledge. Hauntingly enhanced by Sally Klann's illustrations, Alexis Coe's skillful research and documentation never distract from her heartbreaking narrative." - Elizabeth Wein, New York Times bestselling author of Code Name Verity
"With prose that simmers with intellect and longing, conscience and sly eloquence, Alexis Coe has finally granted Alice and Freda the one thing they so desperately lacked in life: the grace of a story beautifully told." - Avi Steinberg, author of Running the Books
"Alexis Coe rescues a buried but extraordinarily telling episode from the 1890's that resonates in all sorts of ways with today. That in itself would be an accomplishment. But this is a book that is truly riveting, a narrative that gallops. Lizzy Borden eat your heart out. Here's a real crime of passion. Or was it? "And so Alice carried the razor around every day in her dress pocket, just in case Freda came to town…" I dare you to pick this one up and try, just try to put it down." - Peter Orner, author of Last Car Over the Sagamore Bridge and Esther Stories
Pulp/Zest Books, 9781936976607, 208pp.
Publication Date: October 7, 2014
About the Author
Alexis Coe is a columnist at The Awl, SF Weekly, and The Toast. She has contributed to The Atlantic, Slate, The Millions, The Hairpin, LA Weekly, The Bay Citizen, Mission at Tenth, The Paris Review Daily, and other publications. She has participated in panels at the Commonwealth Club of California, Columbia's Graduate School of Journalism, and Sarah Lawrence College. In 2012, she received a Creative Capacity Grant from the Center for Cultural Innovation. Before moving to San Francisco, she was a research curator at the New York Public Library, where she co-curated the most popular exhibition in the library's 101 years, and a project-based oral historian at the Brooklyn Historical Society. Alexis holds an MA in history from Sarah Lawrence College and graduated from the honors college at the University of California, Santa Barbara.