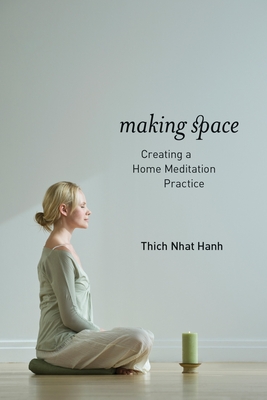 Making Space (Paperback)
Creating a Home Meditation Practice
Parallax Press, 9781937006006, 96pp.
Publication Date: November 3, 2011
Other Editions of This Title:
Digital Audiobook (9/29/2015)
Compact Disc (9/30/2015)
Compact Disc (9/30/2015)
MP3 CD (9/30/2015)
* Individual store prices may vary.
Description
Find peace and calm amid the busyness of your life with this new book by Zen Master Thich Nhat Hanh. Designed to be both inspiration and guidebook for those new to mindfulness practice, Making Space offers easy-to-follow instructions for setting up a breathing room, listening to a bell, sitting, breathing, and walking meditations, and cooking and eating a meal in mindfulness. Whether you live alone or with a family, this beautifully illustrated book can help you create a sense of retreat and sanctuary at home.
About the Author
Thich Nhat Hanh is one of the most revered Zen teachers in the world today. His best-selling books include Happiness and Peace Is Every Step. He lives in Plum Village in southwest France, where he gardens, writes, and teaches the art of mindful living.
Praise For Making Space: Creating a Home Meditation Practice…
Domestic life is a valid form of spiritual practice and Thich Nhat Hanh gives us practical ways to infuse the atmosphere of our home life with attentiveness and peace. Children, friends and even our digestive system will benefit from the daily exercises presented in this profound book. - Michael Stone, Founder, Centre of Gravity Sangha and author of Awake in the World: Teachings from Yoga and Buddhism for Living an Engaged Life.

Your own home, no matter how big or small, can be a peaceful refuge. Making Space gives simple, practical and inspiring ideas on how to create sanctuary in your living space, and blend mindfulness into your daily life. Thich Nhat Hanh's kindness and wisdom shine throughout this poetic book.
Charlotte Bell, author of Mindful Yoga, Mindful Life: A Guide for Everyday Practice
A small, practical book filled with deep and healing truths about the sacred nature of place and home. Thich Nhat Hanh offers each of us an irresistible invitation: to clear a bit of space in our everyday lives, in our own homes and in our own busy schedules, in which our souls can rest and our spirits flourish. To read this lovely book is to take the first small step toward inner peace.
Katrina Kenison - author of The Gift of an Ordinary Day: A Mother's Memoir

Making Space brings home over thirty years of attending Thay's retreats. It invites us to establish a dedicated space for wakefulness, in the monastery of daily living. Although Making Space is intended for beginners, we're always beginners, so longtime meditators can also enjoy refreshing awareness of the timeless basics, cultivating empirical evidence of the unity of inner and outer space - on each step new, with each meal, in each moment. The extended loving kindness (metta) meditation allows the seeds of awakening (intention, understanding and love), to pervade the seeds of suffering (anger, craving and delusion). Making Space kindles our aspiration to discover that the door of our heart is already open, so compassion can flow freely, on the heart's breath. - Elizabeth Hamilton, author Untrain Your Parrot - and Other No-nonsense Instruction on the Path of Zen