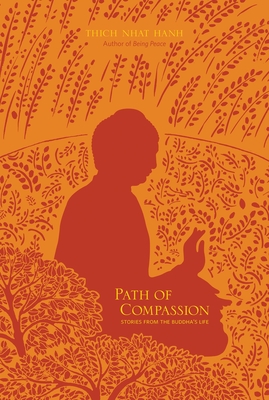 Path of Compassion (Paperback)
Stories from the Buddha's Life
Parallax Press, 9781937006136, 240pp.
Publication Date: February 28, 2008
* Individual store prices may vary.
Description
Path of Compassion is a collection of key stories from Thich Nhat Hanh's classic Old Path White Clouds, a book celebrating its 20th publishing anniversary this year. It tells the fascinating life story of Prince Siddhartha, who left his family and renounced his carefully guarded life, and after many years of spiritual seeking became the Buddha, the Enlightened One. Far more than the description of an unusual life story, it serves as an enjoyable, compelling, and informative introduction to Buddhism by conveying its most important teachings in a compact and accessible format.

Thich Nhat Hanh's ability to show the Buddha as a person who deals with the same life issues as we do is unique and unsurpassed. Written in language accessible to readers of all ages and levels of experience Thich Nhat Hanh combines the description of the major life stages of the Buddha with his most important teachings. Reaching far beyond the biography genre Path of Compassion is a highly readable and informative introduction to Buddhism.
About the Author
Thich Nhat Hanh is one of the most revered Zen teachers in the world today. His best-selling books include Happiness and Peace Is Every Step. He lives in Plum Village in southwest France, where he gardens, writes, and teaches the art of mindful living.