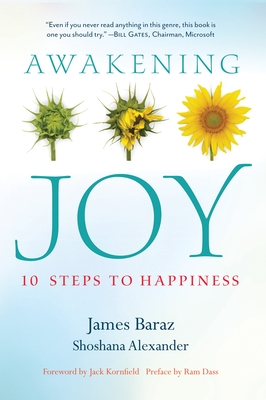 Awakening Joy
10 Steps to True Happiness
Paperback

* Individual store prices may vary.
Other Editions of This Title:
Hardcover (1/12/2010)
Description
Awakening Joy is more than just another book about happiness. More than simply offering suggested strategies to change our behavior, it uses time-tested practices to train the mind to learn new ways of thinking. The principles of the course are universal, although much of the material includes Buddhist philosophy drawn from the author's thirty years as a Buddhist meditation teacher and spiritual counselor.

In these times of economic uncertainty Awakening Joy shows we can get through hard times and use our experience to keep the our heart open while moving from discouragement to well-being, regardless of the external circumstances. Genuine well-being is not expensive. True happiness is not about acquiring anything, but rather about opening to the natural joy and aliveness right inside you.

In this practical down-to-earth guide, readers will learn how to
• make happiness a habit by inclining your mind toward states that lead to well-being
• find joy, even during difficult times, and avoid the pitfalls that prevent you from achieving the contentment you seek
• cultivate effective practices for sustaining joyfulness, such as reclaiming your natural sense of wonder and finding joy in the midst of everyday experiences.

Each chapter of Awakening Joy consists of one of the steps in Baraz's ten-step program and includes engaging exercises and practical advice to make happiness your natural default setting. For everyone from the cynic who is despondent over life's many sorrows, to the harried commuter raging at freeway traffic, this book offers up a simple yet powerful message of hope grounded in the realization that joy already exists inside every one of us. Like a precious child, it only needs to be recognized, embraced, and nurtured in order to grow to its full potential.
Praise For Awakening Joy: 10 Steps to True Happiness…
Even if you never read anything in this genre, this book is one you should try." - Bill Gates

Baraz turned Awakening Joy into a six-month class and found that participants maintained a positive attitude even after it ended (as long as they practiced the exercises; as with diets or working out, continuity is essential). Word of mouth about the course that could make people happier began to spread: The first round of Awakening Joy meetings consisted of about 40 members. The next numbered 100; the next, 200, and then 500. It went international when its members began e-mailing their monthly homework assignments from the lectures to friends. Baraz was thrilled to receive messages from strangers in Europe, Africa, and New Zealand. "It works!" they wrote. Apparently, you didn't have to be there to get the joy. - O, The Oprah Magazine, January 2008

Awakening Joy can lead each of us to live with dignity, compassion, and gracious freedom. Read these words slowly. Savor them and practice the exercises in this book. Use them to open your heart and transform your life. Your days on Earth will be full of blessings. - Jack Kornfield author of the best-selling A Path with Heart

I believe finding more joy in your life will also have rippling effects that can touch everyone you know and make a real difference in the world. And it begins with making the choice to be happy. - From the Book
Parallax Press, 9781937006228, 336pp.
Publication Date: November 15, 2012
About the Author
James Baraz has been teaching meditation for more than thirty years and the Awakening Joy course, both on-site and online, since 2003. He is a co-founding teacher of the Spirit Rock Meditation Center in Woodacre, California, and is on the international advisory board of the Buddhist Peace Fellowship.

Shoshana Tembeck Alexander has studied Buddhism since the early 1970s and is the author of In Praise of Single Parents and Women's Ventures, Women's Visions. She has guided the work of several prominent Buddhist authors, including Tara Brach, Sharon Salzberg, and Wes Nisker. She lives in Ashland, Oregon.