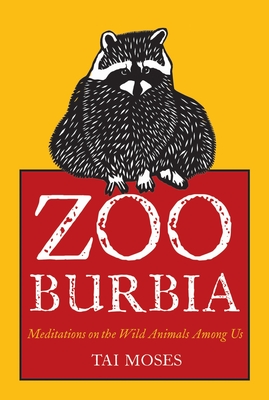 Zooburbia
Meditations on the Wild Animals Among Us
Paperback

* Individual store prices may vary.
Description
Part memoir, part natural history, part mindfulness guide, this charming love letter to the natural world explores the many ways animals can enrich our lives
 
To be alienated from animals is to live a life that is not quite whole, contends nature writer Tai Moses. Urban and suburban residents share their environment with many types of wildlife: squirrels, birds, spiders, and increasingly lizards, deer, and coyote. Many of us crave more contact with wild creatures, and recognize the small and large ways animals enrich our lives, yet don't notice the animals already around us.

Zooburbia reveals the reverence that can be felt in the presence of animals and shows how that reverence connects us to a deeper, better part of ourselves. A lively blend of memoir, natural history, and mindfulness practices, Zooburbia makes the case for being mindful and compassionate stewards—and students—of the wildlife with whom we coexist. With lessons on industriousness, perseverance, presence, exuberance, gratitude, aging, how to let go, and much more, Tai's vignettes share the happy fact that none of us is alone and separate, and that our teachers are right in front of us. We need only go outdoors with our eyes and ears open to find a rapport with the animal kingdom. Zooburbia is a magnifying lens turned to our everyday environment, reminding us that we, as individuals and as a species, are not alone.

Illustrated by Dave Buchen with original black and white wildlife linocuts.
Praise For Zooburbia: Meditations on the Wild Animals Among Us…
"Meet your neighbors! Zooburbia serves as a fine introduction to some of the most interesting creatures you're likely to encounter."Bill McKibben, Eaarth and The End of Nature

I would buy this lovely book for the sentiments, for the illustrations, and for this sentence alone: The mole is the most misunderstood of animals. Living alone in the gloom of darkness, unsociable and virtually sightless, the mole never gets a chance to set the record straight.'"Jeffrey Moussaieff Masson, When Elephants Weep and Dogs Never Lie About Love

"In Zooburbia, Tai Moses writes with great power and imagination about an urban wildlife corridor where humans and animals overlap. This is a poetics of suburbiaof animals flying above us, sharing our houses, gardens and streets. Zooburbia will delight readers who love language and stay with them long after they've finished reading. There is something contagious about Moses's joy and the mindful attention she brings to her encounters with animals. Zooburbia shows us that what we consider ordinary is actually an enchanted kingdom." Thaisa Frank, Enchantment and Heidegger's Glasses

"While Zooburbia shares an extraordinary glimpse into the natural world, it even more brilliantly gives you insight into the human condition, and through the eyes, mind, and heart of one of the most thoughtful, passionate, and perceptive humans you will ever encounter."Thom Hartmann, The Last Hours of Ancient Sunlight

"Wise, witty, compelling, and true, each of these closely-observed essays is a perfect gem! Thank you, Tai Moses, for showing us the blessings our animal teachers give us in wild abundance, right in our own backyards."Sy Montgomery, The Good Good Pig and Journey of the Pink Dolphins

"Zooburbia has the power to quietly change the way you see the world. On every page, Tai Moses offers readers a way to reinterpret the ordinary, revealing that the world we humans have built is an even stranger place than we imagined, yet she reminds us of the beauty that lies beneath our human bumbling. This is a strange and beautiful booka book about animals that is really a book about being a person."Robert Jensen, University of Texas at Austin, Arguing for Our Lives: A User's Guide to Constructive Dialog
Parallax Press, 9781937006679, 272pp.
Publication Date: April 20, 2010
About the Author
Tai Moses has been a journalist and editor for many years. She has also worked as a veterinary assistant, a barista, a hotel maid, and a wildlands firefighter. Formerly a senior editor at AlterNet.org, her writing has been widely published in the independent press. Tai lives in Santa Cruz, CA, with her husband, her dog Arrow, and a number of cats.