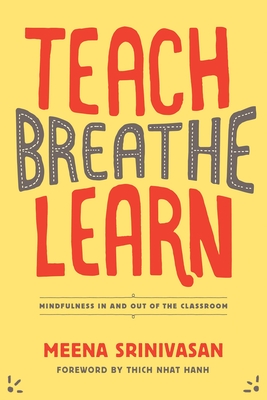 Teach, Breathe, Learn
Mindfulness in and out of the Classroom
Paperback

* Individual store prices may vary.
Description
In Teach, Breathe, Learn, Meena Srinivasan highlights how mindfulness can be an effective tool in the classroom. What makes this book truly unique is her perspective as a classroom teacher, wrestling daily with the conditions about which she writes.

"Teach, Breathe, Learn provides accessible, practical application of mindfulness to overcome challenges faced during the school day." Testimonials from students and colleagues are woven throughout the book. Teach, Breathe, Learn is designed for educators at all levels, parents interested in sharing mindfulness with their children, and anyone curious about how to cultivate their own mindfulness practice and eventually teach mindfulness to others.

Part 1 helps teachers develop compassion and shift from "reacting" to "responding" to demands.

Part 2 offers techniques for cultivating loving-kindness, gratitude and seeing students, colleagues, and parents as oneself.

The last section of the book introduces a curriculum teachers can use to incorporate mindfulness into their classroom, replete with lesson plans, handouts, and homework assignments.
Parallax Press, 9781937006747, 224pp.
Publication Date: August 10, 2014
About the Author
Meena Srinivasan is an Indian-American international educator and thought leader in the field of mindfulness in education. She was one of the youngest educators to be awarded the prestigious National Board Certification. A contributor to United Nations publications on inclusive education, Srinivasan earned an Mster's degree in Education from UC Berkeley and a Bachelor's degree in History and Political Science from Amherst College. Her international outlook on education was enhanced by spending her junior year studying abroad at the London School of Economics. She has taught Middle and High School students in Brazil, India, and California and currently works for the Oakland Unified School District's Social Emotional Learning & Leadership Development Team.

Meena is a student of Thich Nhat Hanh and was involved in the creation of his bestselling book Planting Seeds: Practicing Mindfulness with Children. She serves on the Board of Directors of the Mindfulness in Education Network, was Core Faculty of the Mindful Education Institute, and served on the Advisory Board of the San Francisco Asian Art Museum's exhibit, Yoga: The Art of Transformation. Meena is also a recipient of the 2014 Hemera Foundation Contemplative Education Fellowship.

Meena lives in the San Francisco Bay Area with her husband, Eurasian-American Filmmaker, Chihiro Wimbush. Bringing together their passion for education, media, mindfulness and social justice, Meena and Chihiro started A Lens Inside, a fiscally sponsored project of United Charitable Programs - a registered 501(c)(3) public charity. A Lens Inside develops multimedia and film productions to create curriculum programs that address the exploration of social issues.
or
Not Currently Available for Direct Purchase