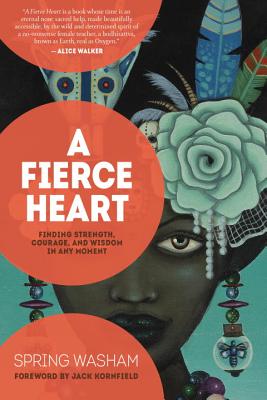 A Fierce Heart (Paperback)
Finding Strength, Courage, and Wisdom in Any Moment
Parallax Press, 9781937006761, 177pp.
Publication Date: November 7, 2017
* Individual store prices may vary.
Description
 "A Fierce Heart is a book whose time is an eternal now: sacred help, made beautifully accessible, by the wild and determined spirit of a no-nonsense female teacher, a bodhisattva, brown as Earth, real as Oxygen." – Alice Walker, author of The Color Purple

Spring Washam is a founder of the East Bay Meditation Center, one of the most diverse and accessible meditation centers in the United States. In A Fierce Heart, Washam shares her contemporary, unique interpretation of the Buddha's 2,500-year-old teachings with powerfully written chapters that get to the heart of mindfulness, wisdom, and compassion.

Woven throughout the book are stories from the author's life, family, and community, along with many soulful, heartfelt stories from all over the world. Washam's teachings truly focus on strength, courage and wisdom, making the Dharma welcoming to as large and wide a community as possible. Anyone who has suffered will benefit from the life-saving teachings of this charismatic teacher. Her humor, enthusiasm, and energy are a balm.
About the Author
Spring Washam is a meditation and Dharma teacher based in the Bay Area of Northern California. She was trained by Jack Kornfield and now leads retreats throughout the country. Spring is one of the founders of the East Bay Meditation Center in Oakland where she teaches and leads meditation groups regularly. She is also a member of the Spirit Rock Teachers Council. Spring is considered a pioneer in bringing mindfulness based healing practices to inner–city communities. She has extensive training in indigenous healing practices and works with students individually from around the world. Learn more at springwasham.com.
Praise For A Fierce Heart: Finding Strength, Courage, and Wisdom in Any Moment…
"Washam, cofounder of Oakland, Calif.'s East Bay Meditation Center, blends personal stories with Buddhist wisdom and a range of other traditions (particularly shamanism) in this forceful invitation to personal transformation...Washam brings energy and passion to the often-staid genre of writing by contemporary American Buddhist teachers. [She] brings considerable gifts for conveying her vision of personal change and offers vivid, inspiring testimony to the power of Buddhism (and other wisdom traditions) to help heal suffering." (Nov.) – Publishers Weekly (starred review)


"Spring Washam offers us wise medicine through courageous storytelling, transmuting suffering into faith and beauty. A Fierce Heart is earthy, practical, heartfelt, and humanizing. A must read for those of us who want to become more intimate with the gifts that suffering makes possible." — Ruth King, author, Healing Rage and Mindful of Race