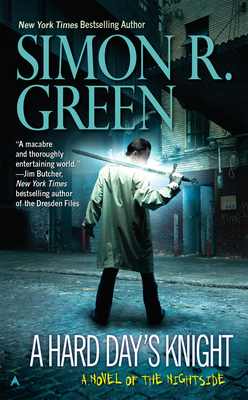 A Hard Day's Knight (A Nightside Book #11) (Mass Market)
Ace, 9781937007195, 304pp.
Publication Date: December 27, 2011
Other Editions of This Title:
Hardcover (1/4/2011)
MP3 CD (7/26/2016)
* Individual store prices may vary.
Description
Welcome to the Nightside. For those foolish enough to seek it out, it's literal tourist trap, populated by beings, human and otherwise, who have never seen the sun rise. A place where your dreams can come true—as long as your nightmares don't get you first.
           
My name is John Taylor. I'm a PI with a special talent for finding lost things. I'm also the reluctant owner of a very special—and dangerous—weapon: Excalibur, the legendary sword (which isn't what you think it is, and never was). Excalibur chose me, and to find out why, I'll have to consult the last defenders of Camelot, a group of knights who dwell in a place that some find more frightening than the Nightside.
           
London Proper. It's been years since I've been back—and there are good reasons for that…
About the Author
Simon R. Green is a New York Times bestselling author whose works include the Secret Histories Novels, the Novels of the Nightside, the Ghost Finders series,  Drinking Midnight Wine, Beyond the Blue Moon, Blue Moon Rising, The Adventures of Hawk & Fisher, and the Deathstalker series. He lives in England.
Praise For A Hard Day's Knight (A Nightside Book #11)…
Praise for Simon R. Green's Novels of the Nightside:
 
"A macabre and thoroughly entertaining world." – Jim Butcher, author of the Dresden Files
 
"Fast paced and amusing, as well as packed with inventive details."—The Denver Post
 
"Fast, fun, adventurous detection in a setting in which nearly anything's possible." – Booklist
 
"Sam Spade meets Sirius Black…inventively gruesome." – Entertainment Weekly
 
"Superlative…An intricate and action-filled plot that seamlessly blends crime and the supernatural." – Publishers Weekly
 
"Readers who prefer their gore with huge melodramatic flourishes and a side of slyly amusing repartee will find Joh Taylor at least the equal of Jim Butcher's Chicago wizard PI Harry Dresden." – Kirkus Reviews
 
"Cross The X-Files with The Twilight Zone, add a pinch of The Outer Limits and a dash of Eerie, Indiana, and one might have a glimmer of an idea what the Nightside is like." – BookBrowser
 
"Totally enjoyable…take a vacation into the Nightside…just try not to get lost in it." – Crimespree
 
"A captivating tale starring a heroic and endearing character whose thoughts when he is in danger are hilarious." – Midwest Book Review
 
 "Taylor is the Sam Spade for the twenty-first century, willing to stare down an angel, a demon, or a god. [The] Nightside has the meanest of the mean streets, and John Taylor is right at home there." – Fantasy Literature