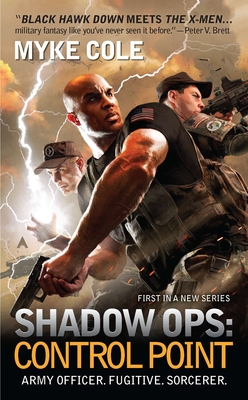 Shadow Ops (Mass Market)
Control Point
Ace, 9781937007249, 400pp.
Publication Date: January 31, 2012
* Individual store prices may vary.
Description
Lieutenant Oscar Britton of the Supernatural Operations Corps has been trained to hunt down and take out people possessing magical powers. But when he starts manifesting powers of his own, the SOC revokes Oscar's government agent status to declare him public enemy number one.
About the Author
As a security contractor, government civilian, and military officer, Myke Cole's career has run the gamut from counterterrorism to cyber warfare to federal law enforcement. He's done three tours in Iraq and was recalled to serve during the Deepwater Horizon oil spill. He recently joined the cast of the TV show Hunted on CBS as part of an elite team of fugitive hunters. All that conflict can wear a guy out. Thank goodness for fantasy novels, comic books, late-night games of Dungeons & Dragons, and lots of angst-fueled writing. Myke is the author of Javelin Rain and Gemini Cell, prequels to his Shadow Ops novels, which include Breach Zone, Fortress Frontier, and Control Point.
Praise For Shadow Ops: Control Point…
"Cross The Forever War with Witchworld, add in the real world modern military of Black Hawk Down, and you get Control Point, the mile-a-minute story of someone trying to find purpose in a war he never asked for." –—Jack Campbell, New York Times bestselling author of the Lost Fleet series

"Control Point is Black Hawk Down meets the X-Men. Fast-paced and thrilling from start to finish...military fantasy like you've never seen it before."—Peter V. Brett, bestselling author of The Warded Man
"Myke Cole takes you down range where the bullets fly and the magic burns with precision-guided fericity that'll put you on the edge of your seat before blowing you right out of it."—Chris Evans, author of the Iron Elves Series

"Hands down, the best military fantasy I've ever read; Control Point is a chilling, enthralling story. Myke Cole just might be a wizard himself."—Ann Aguirre, national bestselling author of Enclave

"A debut by a former military officer that will attract readers who like their urban fantasies with more of a military edge."—Library Journal

"High recommendation. A sold and entertaining novel, a real kick-ass premise/milieu … Cole has launched a solid series that I hope to continue reading, and he's written a novel that starts the year off very strongly."—SFF World

"A fun, fast-paced entertaining debut novel from a promising author…I wonder what Cole's got up his sleeve for us next."—SF Signal