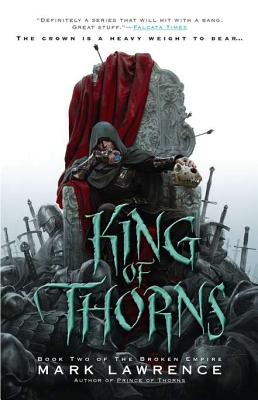 King of Thorns (Hardcover)
Ace Books, 9781937007478, 449pp.
Publication Date: August 7, 2012
* Individual store prices may vary.
or
Not Currently Available for Direct Purchase
Description
In book two of the Broken Empire trilogy, the boy who would be king has gained the throne--but the crown is a heavy weight to bear...
At age nine, Prince Honorous Jorg Ancrath vowed to avenge his slaughtered mother and brother--and to punish his father for not doing so. At fifteen, he began to fulfill that vow. Now, at eighteen, he must fight for what he has taken by torture and treachery.
Haunted by the pain of his past, and plagued by nightmares of the atrocities he has committed, King Jorg is filled with rage. And even as his need for revenge continues to consume him, an overwhelming enemy force marches on his castle.
Jorg knows that he cannot win a fair fight. But he has found a long-hidden cache of ancient artifacts. Some might call them magic. Jorg is not certain--all he knows is that their secrets can be put to terrible use in the coming battle...
About the Author
Mark Lawrence is a research scientist working on artificial intelligence. He is a dual national with both British and American citizenship, and has held secret-level clearance with both governments. At one point, he was qualified to say, "This isn't rocket science--oh wait, it actually is." He is the author of the Broken Empire trilogy (Prince of Thorns, King of Thorns, and Emperor of Thorns), the Red Queen's War trilogy (Prince of Fools, The Liar's Key, and The Wheel of Osheim) and the Book of the Ancestor series (Red Sister).
Praise For King of Thorns…
"Definitely a series that will hit with a bang."
Falcata Times

"Mark Lawrence's wonderful prose is vivid without being flowery, succinct without being plain. He pulls you in and doesn't let go."
New York Times bestselling author Peter V. Brett
Advertisement