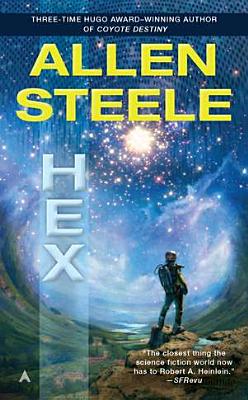 Hex (Coyote Universe #3) (Mass Market)
Ace, 9781937007515, 336pp.
Publication Date: April 24, 2012
* Individual store prices may vary.
Description
Two-time Hugo Award winner Allen Steele expands the universe of his Coyote saga with the story of Hex, a habitat the size of an entire solar system that could be a utopia—or nothing but a cosmic mirage…

The danui, a reclusive arachnid species, have avoided contact with the Coyote Federation—until now. Initiating trade negotiations, they offer only information: the coordinates for an unoccupied world suitable for human life—a massive sphere composed of billions of hexagons.

But when the Federation's recon mission goes terribly wrong, the humans realize how little they know about their new partners…
About the Author
Allen Steele was a journalist who covered the space program and later turned to writing speculative fiction. His first novel, Orbital Decay, published by Ace, was chosen Best First Novel of the Year by Locus, and Allen himself went on to be twice nominated for the John W. Campbell award. He also began writing and selling to the science fiction magazines. He is a three-time Hugo award winner (1996, 1998, 2010) for his short fiction, and is a frequent Nebula nominee. He and his wife Linda, who is a DJ, now live in Whately, MA.
Praise For Hex (Coyote Universe #3)…
"The closest thing the science fiction world now has to Robert A. Heinlein." --SFRevu

"Steele has been progressively widening the screen throughout this series, and with Hex he bumps the aspect ratio up to IMAX level and sits us in a front-row seat." --Locus

"Coyote has become one of SF's beloved other worlds…Interesting and well thought out; the reward is worth the trip." --Analog — eloquence quotes