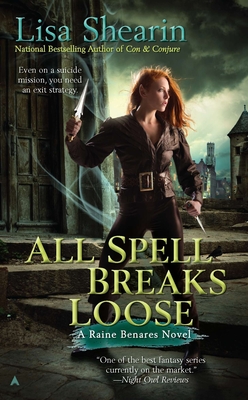 All Spell Breaks Loose (Mass Market Paperbound)
Ace Books, 9781937007713, 290pp.
Publication Date: May 29, 2012
Description
From national bestselling author Lisa Shearin comes a new chapter in -one of the best fantasy series currently on the market.- (Night Owl Reviews)
My name is Raine Benares--and it sucks to be me right now.
I'm a seeker who found the Saghred, a soul-stealing stone that gave me unlimited powers I never wanted. Now I've lost the rock--and the magic it gave me--to a goblin dark mage whose main goals are my death and world domination. This is more than incentive enough for a little trip to the goblin capital of Regor with a small band of good friends, not-so-good friends, and one outright enemy. Don't ask.
All we need to do is destroy the Saghred, kill the mage, and put a renegade goblin prince on the throne. Did I mention I'll be doing that with no magic?
About the Author
Lisa Shearin currently works as the editor at an advertising agency. She has been a magazine editor and writer of corporate marketing materials of every description. Lisa enjoys singing, reading, writing novels, and fencing (foil and epee, as well as rapier & dagger dueling). She lives in North Carolina with her husband, two cats, two spoiled-rotten retired racing greyhounds, and a Jack Russell terrier who rules them all.
Advertisement