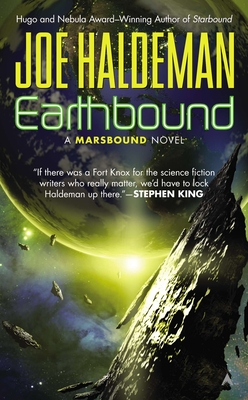 Earthbound (Mass Market)
Ace, 9781937007836, 272pp.
Publication Date: December 24, 2012
Other Editions of This Title:
Digital Audiobook (12/5/2011)
Hardcover (12/6/2011)
* Individual store prices may vary.
Description
The Others disposed of Earth's spaceship fleet as easily as swatting a fly. They blew up the Moon, letting the resulting cloud of rocks and gravel go into orbit. Then, for good measure, they turned off all the power, leaving Earth with nine billion hungry people competing for dwindling resources.

Now Carmen Dula, the first human to encounter Martians and then the mysterious alien Others, and her colleagues struggle to find a way—using nineteenth-century technology—to reclaim the future that has been stolen from them.
About the Author
Joe Haldeman is a Vietnam veteran whose classic novels The Forever War and Forever Peace both have the rare honor of having won the Hugo and Nebula awards. He has served twice as president of Science Fiction & Fantasy Writers of America and is currently an adjunct professor teaching writing at the Massachusetts Institute of Technology.
Praise For Earthbound…
"If there was a Fort Knox for the science fiction writers who really matter, we'd have to lock Haldeman up there."—Stephen King

"Haldeman trips through history wearing alien goggles, but his message is all about human nature."—Entertainment Weekly

Praise for Earthbound:

"This is one of the best Haldeman novels, all told in crisp prose and ending not without hope."—City Book Review

"An enjoyable story filled with action and surprise."—Night Owl Reviews

"Heaven as my witness, I wish it were a longer book, so that I could have stayed in its world just a bit more…Wow."—Blogcritics.org