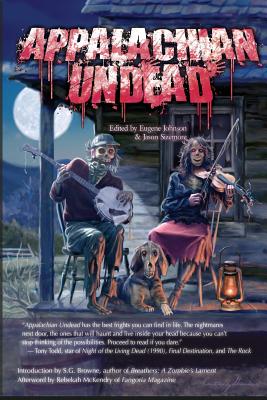 Appalachian Undead
Paperback

* Individual store prices may vary.
Description
Almost Heaven...or is it?
The mountain's enduring beauty holds something dark. Something dreadful. Something hungry for our flesh, our brains. Something dead yet not quite dead, driven by magic as old as the coal seams and the hills.
Come see the dark side of the mountains where the undead walk. Appalachia stands against an ever-hungry, never-tiring army created by the region's own mysteries and lore. Appalachian Undead collects intriguing zombie tales by some of the best names in horror, including John Skipp, Jonathan Maberry, Gary A. Braunbeck, Tim Lebbon, Elizabeth Massie, Lucy Snyder, Bev Vincent, Tim Waggoner, and many more.
Table of Contents
When Granny Comes Marchin' Home Again- Elizabeth Massie
Calling Death-Jonathan Maberry
Hide and Seek-Tim Waggoner
Twilight of the Zombie Game Preserve...-S. Clayton Rhodes
Being in Shadow-Maurice Broaddus
Sitting up with the Dead-Bev Vincent
The Girl and the Guardian-Simon McCaffery
Repent, Jessie Shimmer -Lucy Snyder
Almost Heaven-Michael Paul Gonzalez
On Stagger-G. Cameron Fuller
We Take Care of Our Own-John Everson
Sleeper-Tim Lebbon
Company's Coming-Ronald Kelly
Black Friday-Karin Fuller
Spoiled-Paul Moore
Miranda Jo's Girl-Steve Rasnic Tem
Times Is Tough in Musky Holler-John Skipp & Dori Miller
Long Days to Come-K. Allen Wood
Hell's Hollow-Michael West
Brother Hollis Gives His Final Sermon from a Rickety Make-Shift Pulpit in the Remains of a Smokehouse that now Serves as His Church-Gary A. Braunbeck
Preface by editor Eugene Johnson
Introduction by S.G. Browne (author of
Breathers: A Zombie's Lament
)
Special Afterword by
Fangoria Magazine
editor Rebekah McKendry
Blurbs
"Appalachian Undead has the best frights you can find in life. The nightmares next door, the ones that will haunt and live inside your head because you can't stop thinking of the possibilities. Proceed to read if you dare."
-Tony Todd, star of Night of the Living Dead (1990), Final Destination, and The Rock
"Appalachian Undead is a no-brainer when it comes to zombie anthologies. It grabs you by your innards and won't let go "
-Scott Spiegel, screenwriter of Evil Dead II and From Dusk Till Dawn II
"A fresh and varied approach to the living dead, brought to life by a great crop of writers who were obviously energized by the idea of taking the ultimate survival scenario and staging it in a place where survival has always been a hard won achievement for anyone brave enough to live there."
-Fearnet, Blu Gilliand
Apex Book Company, 9781937009182, 214pp.
Publication Date: July 27, 2013