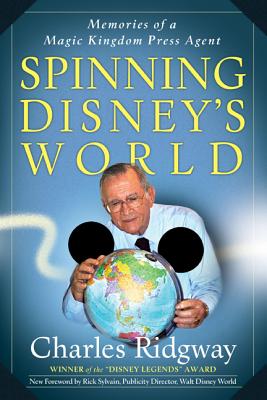 Spinning Disney's World: Memories of a Magic Kingdom Press Agent (Paperback)
Memories of a Magic Kingdom Press Agent
Intrepid Traveler, 9781937011420, 256pp.
Publication Date: April 16, 2015
Description
An official "Disney Legend," newsman Charlie Ridgway started covering Disneyland before it opened. A few years later, he hired on as a publicist for Disney and spent the next forty years cooking up ways to get "the Mouse" free publicity. For Donald Duck's fiftieth birthday he trained 50 white Peking ducks to waddle behind Donald down Main Street, U.S.A. He helped open new Disney parks in Orlando, Paris and Hong Kong. Along the way he rubbed shoulders with presidents and princes, helped usher in the era of electronic newsgathering, and was on a first-name basis with every great journalist of the last half of the twentieth century. In this engaging and light-hearted memoir, Ridgway shares the special magic that makes Disney's world universally beloved. This paperback edition includes a new foreword by Rick Sylvain, the current head of PR for Walt Disney World and Charlie's hand-picked successor.
About the Author
Charles Ridgway is a member of the Society of American Travel Writers. He lives in Longwood, Florida, near Orlando. He was named a Disney Legend in 1999.
Advertisement