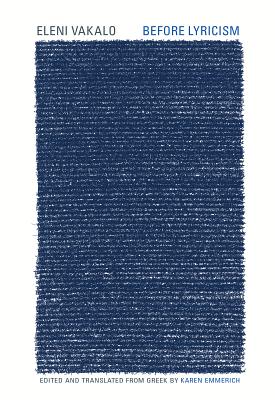 Before Lyricism (Paperback)
Ugly Duckling Presse, 9781937027704, 144pp.
Publication Date: August 1, 2017
* Individual store prices may vary.
Description
Poetry. Translated from the Greek by Karen Emmerich. BEFORE LYRICISM includes six book-length poems: The Forest (1954), Plant Upbringing (1956), Diary of Age (1958), Description of the Body (1959), The Meaning of the Blind (1962), and Our Way of Being in Danger (1966). Each of these, apart from Plant Upbringing, was published as a separate book, which Vakalo herself designed. (Plant Upbringing was originally included in the volume Wall Painting, of which Vakalo later repudiated all but this single long poem.) For Vakalo, these poems formed a larger, accretive whole, which she titled Prin Apo Ton Lyrismo (Before Lyricism). By bringing these poems together under a single cover, BEFORE LYRICISM allows us to see the complex web of intertextual relations that bind these books together. Meanwhile, by bringing these poems into English, this volume will enrich not only our knowledge of this key period in Vakalo's career, but English-language readers' understanding of modern Greek poetry as a whole.