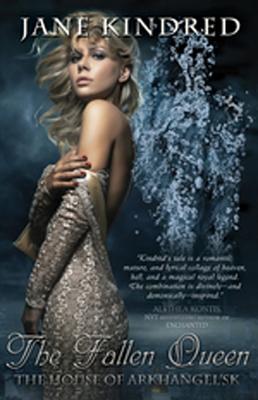 The Fallen Queen
Paperback

* Individual store prices may vary.
Description
Heaven can go to hell.

Until her cousin slaughtered the supernal family, Anazakia's father ruled the Heavens, governing noble Host and Fallen peasants alike. Now Anazakia is the last grand duchess of the House of Arkhangel'sk, and all she wants is to stay alive.

Hunted by Seraph assassins, Anazakia flees Heaven with Fallen thieves-fire demon Vasily and air demon Belphagor, each with their own nefarious agenda- who hide her in the world of Man. The line between vice and virtue is soon blurred, and when Belphagor is imprisoned, the unexpected passion of Vasily warms her through the Russian winter.

Heaven seems a distant dream, but when Anazakia learns the truth behind the celestial coup, Anazakia will have to return to fight for the throne--even if it means saving the man who murdered everyone she loved.
Entangled Select, 9781937044909, 400pp.
Publication Date: May 8, 2012
About the Author
Jane Kindred began writing fantasy at age 12 in the wayback of a Plymouth Fury--which, as far as she recalls, never killed anyone who didn't have it coming. She spent her formative years ruining her eyes reading romance novels in the Tucson sun and watching Star Trek marathons in the dark. Although she was repeatedly urged to learn a marketable skill, she received a B.A. in Creative Writing anyway from the University of Arizona. She now writes to the sound of San Francisco foghorns while two cats slowly but surely edge her off the side of the bed.

You can find Jane on her Twitter account and Facebook page--both of which are aptly named "janekindred"--and her website, www.janekindred.com.
or
Not Currently Available for Direct Purchase