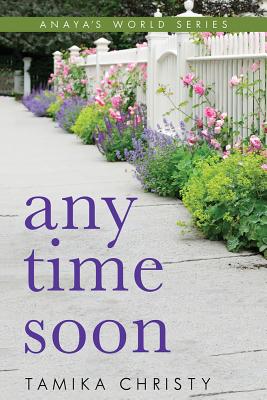 Any Time Soon (Anaya's World series)
Paperback

* Individual store prices may vary.
Description
A 2014 Finalist Award Winner in the African American Fiction category of the Indie Next Generations Awards. Frenzied. Overburdened. Stressed. Overwhelmed. These are just a few ways to describe college senior Anaya Goode's life. Add to this no career prospects following a looming graduation, and Anaya quickly finds herself drowning in the chaos of her own life. Her family and friends demand much of Anaya, and she's struggling to balance herself in the mire. Facing an onslaught of grief, complex relationships, and a life that is full of deafening noise, Anaya must find herself, and maybe even true love and redemption, amid old traditions and new beginnings.
BQB Publishing, 9781937084950, 284pp.
Publication Date: July 1, 2013
About the Author
A Bay Area native, Tamika Christy began writing at an early age, prompted by the gift of a journal for Christmas. With pen in hand, she continued writing throughout college where she realized her talent for creating intriguing plots and multidimensional characters. Tamika perfected the art of using words to paint vivid landscapes of the emotions, triumphs, and madness of life. Tamika continued to nurture her love for writing while attending law school, where she gave birth to her first novel, "Anytime Soon.: Tamika describes her writing as urban prose---funny, warm, soulful with blunt dialogue and familiar realism.