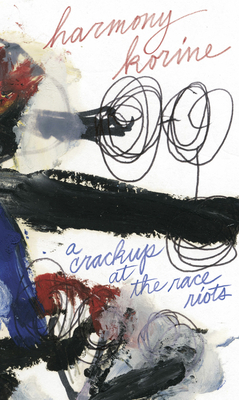 A Crack-Up at the Race Riots
Paperback

* Individual store prices may vary.
Description
Originally published by Mainstreet/Doubleday in 1998, this debut novel from an underground filmmaker uses print, photographs, drawings, news clippings, handwriting, a poem, attempted diagrams, and clip art to enhance the text, which primarily tells of a race war that happens in Florida, where the Jewish people sit in trees, the black people are run by MC Hammer, and the white people are run by Vanilla Ice. Or as the author himself described it front of a national television audience, "I wanted to write the Great American Choose-Your-Own-Adventure Novel." In actuality, it is a collection of hard-luck stories, off-and-on-color jokes, script scraps, found letters, free rhymes, drug flashbacks, and other missing scenes, all exploring the world of show business with fingers prying in the cracks and feet set lightly in the black humors of the real world. With chapters about books found in Monty Clift's basement and Tupac Shakur's 10 favorite novels, and a set of 11 suicide notes with room included for the reader's signature, the book is a one-of-a-kind post-postmodern examination of the dangers of public life from a unique voice in independent culture, one that might make William S. Burroughs sigh and turn the page at least.
Praise For A Crack-Up at the Race Riots…
"The new heir, the man, the sweet edge of the future."  —Jim Carroll, author, The Basketball Diaries


"I was struck from the very beginning that there is a new voice in writing. I believe that [he] is a great talent as a writer."  —Werner Herzog, film director, Aguirre, Wrath of God and Grizzly Man
Drag City, 9781937112103, 172pp.
Publication Date: April 16, 2013
About the Author
Harmony Korine is the director of the films Gummo, Julien Donkey-Boy, Mister Lonely, Spring Breakers, and Trash Humpers, as well as music videos for artists such as Cat Power, Sonic Youth, and Will Oldham. He was the writer of the film Kids. He lives in Nashville, Tennessee.