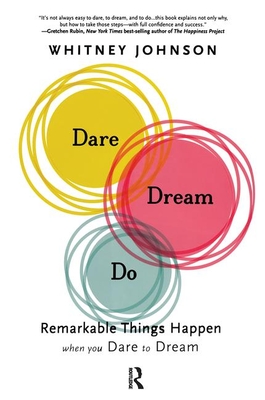 Dare, Dream, Do
Remarkable Things Happen When You Dare to Dream
Hardcover

* Individual store prices may vary.
Other Editions of This Title:
Digital Audiobook (1/31/2014)
Description
Thinkers50 Management Thinker of 2015 Whitney Johnson has a goal: to help us identify and achieve our dreams. Her belief is that we can each achieve greater happiness when focusing both on our dreams and on other people in our lives. In this inspiring book, Johnson directs her attention to teaching women, in particular, a three-step model for personal advancement and happiness. She first encourages us to Dare to boldly step out, to consider disrupting life as we know it. Then she teaches us how to Dream, to give life to the many possibilities available, whether to start a business, run a marathon, or travel the world. She shows us how to "date" our dreams (no need to commit ) and how to make space for dreams. Finally, Whitney's model brings out the businesswoman in her; she teaches us to Do, to execute our dreams. She showcases the importance of sharing dreams with others to give them life, creating your own "dream team." Rich with real stories of women who have dared to dream, Dare, Dream, Do offers a practical framework for making remarkable things happen.
Routledge, 9781937134129, 254pp.
Publication Date: June 14, 2012
About the Author
Whitney Johnsonis the leading thinker on driving corporate innovation through personal disruption. She cofounded Rose Park Advisors, a boutique investment firm, with Clayton Christensen, and was anInstitutional Investor-ranked analyst for eight consecutive years, including at Merrill Lynch. She is a frequent contributor to the Harvard Business Review, and has contributed to Sheryl Sandburg's Lean In blog, Fast Company, Forbes, Huffington Post, and Inc., among others. Johnson is also the author ofDisrupt Yourself: Putting the Power of Disruptive Innovation to Work(Bibliomotion, 2015). She was rankedon the Thinkers50 list of Management Thinkers in 2015, named one ofFortune s55 Most Influential Women on Twitter in 2014, and named a Future Thinker Finalist by Management Thinkers50 in 2013. Johnson is cofounder of the Forty Over 40 List, recognizing women who are reinventing, disrupting, and making an impact. She is represented by the New Leaf Speakers bureau, along with other key thought leaders in innovation and business."