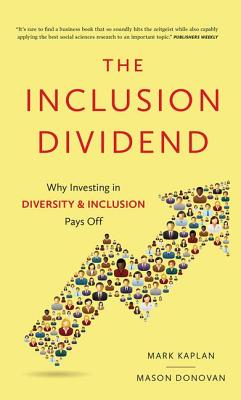 Inclusion Dividend (Hardcover)
Why Investing in Diversity & Inclusion Pays Off
Routledge, 9781937134402, 234pp.
Publication Date: June 7, 2013
* Individual store prices may vary.
Description
In today's increasingly diverse, global, interconnected business world, diversity and inclusion (D&I) is no longer just "the right thing to do," it is a core leadership competency and central to the success of business. Working effectively to combat unconscious bias across differences such as gender, culture, generational, race, and sexual orientation not only leads to a more productive, innovative corporate culture but also to a better engagement with customers and clients. The Inclusion Dividend provides a framework to tap the bottom-line impact that results from an inclusive culture. Most leaders have the intent to be inclusive, however translating that intent into a truly inclusive outcome with employees, customers, and other stakeholders requires a focused change effort. The authors explain that challenge and provide straightforward advice on how to achieve the kind of meritocracy that will result in a tangible dividend and move companies ahead of their competition.
About the Author
Mark Kaplan and Mason Donovan are managing partners of The Dagoba Group, a New England based consultancy specializing in leadership development, diversity and inclusion, and organizational change. Mark is the former CEO of MGK Consulting and has been advising organizations in these areas since 1986. Mark has been published in leading diversity publications and is a guest speaker at global D&I focused conferences. He earned his MA in HR Development from Villanova. For over a decade, Mason has consulted with the majority of Fortune 500 companies on talent acquisition, retention, and development. He has also worked with companies to create sustainable client relationships. Mason is the author of "DRIVEN: A Manager's Field Guide to Sales Team Optimization" and is an accomplished speaker. He earned his MA in International Business from Webster University in The Netherlands. Both Mason and Mark reside in New Hampshire.

Ana Duarte McCarthy is the Chief Diversity Officer at Citi.