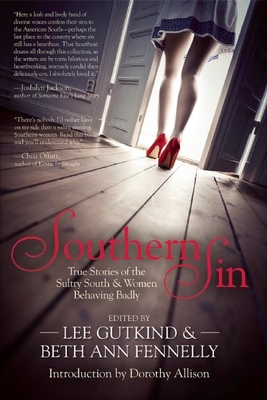 Southern Sin
True Stories of the Sultry South and Women Behaving Badly
Paperback

* Individual store prices may vary.
Description
23 strange-but-true stories of women flirting with perdition... In the steamy South, temptation is as wild and plentiful as kudzu. Whether the sin in question is skinny-dipping or becoming an unlikely porn star, running rum or renting out a room to a pair of exhibitionistic adulterers, in these true stories women defy tradition and forge their own paths through life--often learning unexpected lessons from the experience. As Dorothy Allison writes in her introduction, "The most dangerous stories are the true ones, the ones we hesitate to tell, the adventures laden with fear or shame or the relentless pull of regret. Some of those are about things that we are secretly deeply proud to have done." A diverse array of contributors--mothers, daughters, sisters, best friends, fianc es, divorcees, professors, poets, lifeguards-in-training, lapsed Baptists, tipsy debutantes, middle-aged lesbians--lend their voices to this collection. Introspective and abashed, joyous and triumphant (but almost never apologetic), they remind us that sin, like beauty, is in the eye of the beholder.

Praise For Southern Sin: True Stories of the Sultry South and Women Behaving Badly…
People say that God listens most to the prayers of a hard sinner and Southerners do everything hard: love, fight, pray, drink, and live. There's nobody I'd rather have on my side than a sultry, sinning, Southern woman. Read this book and you'll understand why." —Chris Offutt, author of Kentucky Straight

This delicious collection slyly moves between dramatic transgressions—slicing your lover's throat or refusing to aid a woman who may just have been assaulted—and small transgressions—slapping your Mama on the face, shoplifting cheap bras at the mall, poking through your mentor's trash to discover the twirls of dental floss before fondling her shower gel, insisting that a vibrator adverse lesbian try one—never missing a beat, as author after author confesses, brags, tells, a story of a woman dancing with the devil—all alone or in raggedy company. Over and over again the heroines of these true histories discover being wildly lost often leads to being self-found. Southern Sin is a significant addition to liberation literature that transcends regionalism even as it celebrates it. At the center of this project is a breaking and re-making of the American Puritan concept of the power of confession."
—Alice Randall, author of The Wind Done Gone
In Fact Books, 9781937163105, 350pp.
Publication Date: March 18, 2014
About the Author
Lee Gutkind is the founder and editor of Creative Nonfiction magazine and the editor of anthologies including The Best Creative Nonfiction series and I Wasn't Strong Like This When I Started Out: True Stories of Becoming a Nurse. He is currently Distinguished Writer in Residence in the Consortium for Science, Policy, and Outcomes and a professor in the Hugh Downs School of Human Communication, both at Arizona State University. Beth Ann Fennelly directs the MFA Program at Ole Miss, where she was named the 2011 Outstanding Liberal Arts Teacher of the Year. The Tilted World , the novel she co-authored with her husband, Tom Franklin, was published by HarperCollins in October 2013. Dorothy Allison grew up in Greenville, South Carolina, the first child of a fifteen-year-old unwed mother who worked as a waitress. A novelist, short-story writer, and poet, Allison received mainstream recognition with her novel Bastard Out of Carolina, a finalist for the 1992 National Book Award. Awarded the 2007 Robert Penn Warren Award for Fiction, Allison is a member of the board of the Fellowship of Southern Writers. She lives in Northern California with her partner Alix and her teenage son, Wolf Michael. A novel, She Who, is forthcoming.