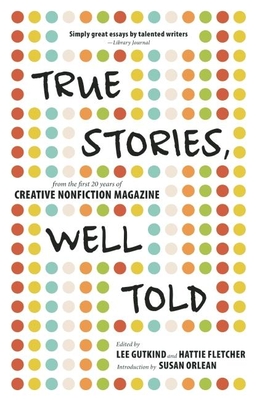 True Stories, Well Told (Paperback)
From the First 20 Years of Creative Nonfiction Magazine
In Fact Books, 9781937163167, 342pp.
Publication Date: August 26, 2014
* Individual store prices may vary.
Description
Creative nonfiction is the literary equivalent of jazz: it's a rich mix of flavors, ideas, voices, and techniques--some newly invented, and others as old as writing itself. This collection of 20 gripping, beautifully-written nonfiction narratives is as diverse as the genre Creative Nonfiction magazine has helped popularize. Contributions by Phillip Lopate, Brenda Miller, Carolyn Forche, Toi Derricotte, Lauren Slater and others draw inspiration from everything from healthcare to history, and from monarch butterflies to motherhood. Their stories shed light on how we live.

About the Author
Lee Gutkind has been exploring the world of medicine through writing for over 20 years. He is the author of Many Sleepless Nights: The World of Organ Transplantation, and the editor of four anthologies about health and medicine: Silence Kills: Speaking Out and Saving Lives; Rage and Reconciliation: Inspiring a Health Care Revolution; Healing; and Becoming a Doctor. Gutkind is the founder and editor of the magazine Creative Nonfiction, the first and largest literary journal to exclusively publish nonfiction, and has also published the essay collection Forever Fat and two books on writing, The Art of Creative Nonfiction and Keep It Real, among other titles. Currently he teaches creative writing at Arizona State University's Consortium for Science, Policy, and Outcomes. Based in Pittsburgh, Hattie Fletcher has been the managing editor of Creative Nonfiction since 2004. Susan Orlean is the author of The Orchid Thief and Rin Tin Tin and is a staff writer at The New Yorker. She lives in New York City.