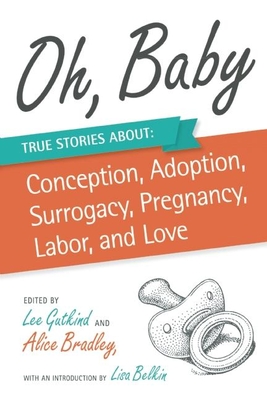 Oh, Baby (Paperback)
True Stories about Conception, Adoption, Surrogacy, Pregnancy, Labor, and Love
In Fact Books, 9781937163211, 287pp.
Publication Date: October 20, 2015
* Individual store prices may vary.
Description
In these 23 original stories, mothers and fathers from all walks of life--straight, gay, single, surrogate, biological, adoptive--explore the challenges and rewards of parenthood. Here, among other adventures, parents fall hopelessly in love with newborns, secretly fear having made huge mistakes, race to finish birthing at home before the paramedics arrive, struggle with the bureaucracy of international adoption, despair of ever getting a one-year-old to nap, are nearly broken by colic, encounter other judgmental parents in birthing class, learn how to parent children with special needs, and more. Together, these thoughtful, searing, often hilarious essays map the grand (and sometimes terrifying) journey that begins with each new life.
About the Author
Lee Gutkind is the founder and editor of the literary magazine Creative Nonfiction and the author or editor of more than 30 books. He has written or edited numerous books about writing, including The Art of Creative Nonfiction, Keep It Real, and You Can't Make This Stuff Up: The Complete Guide to Writing Creative Nonfiction from Memoir to Literary Journalism and Everything in Between. He is also the editor or co-editor of numerous anthologies, including At the End of Life; Southern Sin: True Stories of the Sultry South and Women Behaving Badly; and True Stories, Well Told . . . from the First Twenty Years of Creative Nonfiction Magazine. Gutkind currently teaches creative writing at Arizona State University's Consortium for Science, Policy, and Outcomes. Alice Bradley is a writer and editor who co-authored the book Let's Panic About Babies! (St. Martin's Press, 2011). She has been published in numerous magazines, including Real Simple, Good Housekeeping, Ladies' Home Journal, Parents, and Redbook. Her short fiction and essays have appeared in Berkeley Fiction Review, Fence, [PANK], and The Sun. She has been nominated twice for a Pushcart Prize, in fiction and nonfiction. Her essays have also appeared in anthologies such as Sleep is for the Weak and Things I Learned About My Dad (in Therapy). Her popular blog Finslippy has maintained a steady following since its creation in 2004. She has a Twitter following of over 60,000.