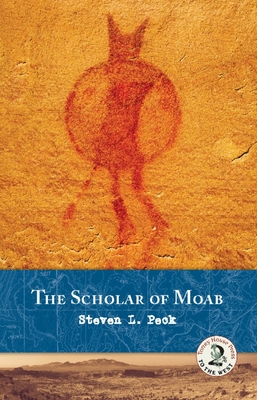 The Scholar of Moab (Paperback)
Torrey House Press, 9781937226022, 294pp.
Publication Date: November 8, 2011
* Individual store prices may vary.
Description
What happens when a two-headed cowboy, a high school dropout who longs to be a scholar, and a poet who claims to have been abducted by aliens come together in 1970's Moab, Utah? The Scholar of Moab, a dark-comedy perambulating murder, affairs, and cowboy mysteries in the shadow of the La Sal Mountains.
Young Hyrum Thane, unrefined geological surveyor, steals a massive dictionary out of the Grand County library in a midnight raid, startling the people of Moab into believing a nefarious band of Book of Mormon assassins, the Gadianton Robbers, has arisen again.
Making matters worse, Hyrum's illicit affair with Dora Tanner, a local poet thought to be mad, ends in the delivery of a premature baby boy who vanishes the night of its birth. Righteous Moabites accuse Dora of its murder, but who really killed their child? Did a coyote dingo the baby? Was it an alien abduction as Dora claims? Was it Hyrum? Or could it have been the only witness to the crime, one of a pair of Oxford-educated conjoined twins who cowboy in the La Sals on sabbatical?
Take a rollicking ride with Hyrum LeRoy Thane, the Lord's Chosen Servant and Defender of Moab. His short rich life spans the borderlands of magical realism where geology, ecology, philosophy and consciousness collide, in Steven L. Peck's rip-roaring tale The Scholar of Moab.
About the Author
Steven L. Peck is an evolutionary ecologist at Brigham Young University where he teaches the philosophy of biology. His scientific work has appeared in numerous publications. As the Renaissance Man he is, Steve has won a fistful of awards for both his poetry and science fiction work.
Praise For The Scholar of Moab…
Steven Peck has imagined a world ever-so-slightly tweaked from this real one, butwell, why wouldn't conjoined twins have an independent consciousness, bumblebees be more dependent on faith than wings, and Einstein sing German nursery rhymes? The Scholar of Moab explores the otherworld of nature, imagination, and mind."
—Brooke Williams, Halflives: Reconciling Work and Wildness

"It's satire of the best sort: biting what it loves, snuggling up to what it hates."
—Scott Abbott, Professor of Philosophy and Humanities, Director of Integrated Studies, Utah Valley University

"Peck moves easily from the lyrical to the grotesque, and sets his multi-voiced tale in the ideal place: Moab, Utah--where red rocks and surprising arches provide the ideal backdrop for anything in or out of the world, including space ships and kidnapped babies."
—Margaret Blair Young, President: Association for Mormon Letters

"Peck convincingly merges the genre of magical realism with American West fiction by invoking the power of personal testimonynot his own, but by presenting the recorded testimony of his characters in letters, journals, poetry, and interview transcripts. Using these disparate voices, Peck concocts a strange and tragicomic brew of naivety, philosophy, faith, discovery, and loss."
—Blair Dee Hodges, Standing on the Promises, The Association for Mormon Letters