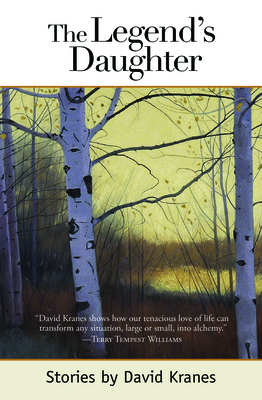 The Legend's Daughter (Paperback)
Idaho Stories
Torrey House Press, 9781937226152, 172pp.
Publication Date: May 7, 2013
* Individual store prices may vary.
Description
The stories in The Legend's Daughter inhabit present-day Idaho where fires, streams, and landscapes ask--even demand--that individuals reconsider and reorient their lives. An award-winning playwright, David Kranes infuses this collection with swift dialogue and complicated characters, including a kayaking actor, a rebellious high school teacher, and a lipstick-loving fly fisherman. A 15 Bytes 2014 Book Award Winner "In this exceptional collection of stories set mostly in Idaho in the deep backwoods along river banks and lonely county roads, Kranes' characters are all thrown out of their comfort zones. And so is the reader. Richly drawn and complex, these stories challenge the intellect. Kranes has managed to somehow dam the river of souls these stories possess. They do not lie still, however, between the covers but rather spin in far-reaching whirlpools of genuine humanity and mortality."
--15 Bytes "There's something to be said about a writer whose style is easily recognized, whose voice stands out, whose stories are readily identified. What's remarkable about David Kranes's writing and these stories, though, is that each story stands out on its own merit, while every story is well crafted and conceived. Nothing one-dimensional about his people, nothing one dimensional about his prose, either."
--ForeWord Reviews From rainbow trout jumping in the Salmon River to watering holes on the edge of McCall Lake, each of the ten stories in author and playwright David Kranes's The Legend's Daughter transports the reader to the wilderness of Eastern Idaho. While Kranes renders a common setting in each story, the collection is not simply a detailed portrait of Idaho, but an examination of the lives of restless people seeking to escape from their lives and find peace."
--ZYZZYVA "The Legend's Daughter is a story collection of real people struggling with identity, with love, with time, rooted in the rugged and indifferent beauty of Idaho where each character finds his or her mirror in water, in stone, in place. David Kranes shows how our tenacious love of life can transform any situation, large or small, into alchemy. We are all living inside these raw and well-drawn pages."
--Terry Tempest Williams, author of When Women Were Birds "These Idaho stories are vintage David Kranes. He, more than any other writer, is the one whose work spurs me to reconsider what fiction can do. He uses language like a knife and the worlds in his stories come off the page at me. We haven't seen this Idaho before. I'm thrilled to have these stories, every one of them provocative, riveting, and robust."
--Ron Carlson, author of The Signal "In these times of disconnection, David Kranes lassoes us with the delicate tether of his multiple gifts and brings us home . . . a storyteller and an elegant craftsman."
--Mary Sojourner, author of 29 "David Kranes has given us ten stories, entirely various, often splendid, sometimes hilarious or heartbreaking."
--William Kittredge, author of The Willow Field
About the Author
David Kranes is an emeritus professor of English at the University of Utah, where he received the Ramona Cannon Teaching Award and University Professor Award, among other honors. He is author of two volumes of short stories and seven novels. His 2001 novel, The National Tree, was adapted for television and aired on the Hallmark channel in November 2009. His short story, Cordials, won the 1996 Pushcart Prize, followed the next year by Low Tide in the Desert: Nevada Stories, which won the Western Heritage Award for Best Short Story. His writing has appeared in such magazines as Esquire, Ploughshares, and Transatlantic Review. Over 50 of his plays have been performed in New York and across the U.S., and his radio plays have been performed in the U.S., Canada, and abroad. The opera, Orpheus Lex, for which Mr. Kranes wrote the libretto, was performed at New York City's Symphony Space in February 2010. His volume of Selected Plays was published in August of 2011. A new play, The Last Word, developed at NYC's Lark Theater was recently given a staged reading at Salt Lake Acting Company. In his second (or is it third?) life, Mr. Kranes travels and consults for the casino industry.