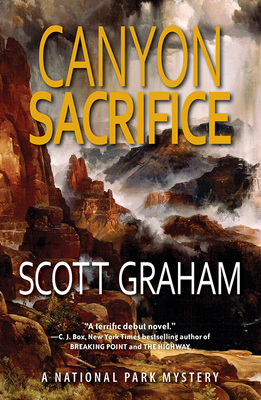 Canyon Sacrifice (National Park Mystery) (Paperback)
Torrey House Press, 9781937226305, 228pp.
Publication Date: June 10, 2014
* Individual store prices may vary.
Description
Canyon Sacrifice brings the rugged western landscape, the mysterious past of the ancient Anasazi Indians, and the Southwest's ongoing cultural fissures vividly to life. A deadly struggle against murderous kidnappers in Grand Canyon National Park forces archaeologist Chuck Bender to face up to his past as he realizes every parents' worst nightmare: a missing child. "Graham has created a beautifully balanced book, incorporating intense action scenes, depth of characterization, realistic landscapes, and historical perspective."
--REVIEWING THE EVIDENCE "This riveting series debut showcases Graham's love of nature and archeology, simultaneously interjecting some serious excitement. Graham is to be commended for weaving together several cultures into one story. Recommend to readers who enjoy Tony Hillerman, Nevada Barr, and C.J. Box's Joe Pickett series."
--LIBRARY JOURNAL "A gripping tale of kidnapping and murder...in a style similar to mysteries by Tony Hillerman."
--ALBUQUERQUE JOURNAL "Graham has created a story of] richness and depth...Graham's comfort and familiarity with his subject make the story an enjoyable read."
--DURANGO HERALD "A riveting mystery...Graham takes readers intimately into the setting, his knowledge of the places he writes about apparent at every turn."
--DURANGO TELEGRAPH "A terrific debut novel..."
--C.J. BOX, New York Times bestselling author of Stone Cold and Breaking Point "The real star of this engrossing mystery novel is the Grand Canyon itself. Scott Graham clearly knows the territory. Graham delivers a glorious portrait of one of the most compelling landscapes on earth, a place that can kill just as easily as it thrills. This is a topnotch read."
--WILLIAM KENT KRUEGER, New York Times bestselling author of Tamarack County "Canyon Sacrifice delivers it all and then some."
--MARGARET COEL, New York Times bestselling author of Killing Custer "Bring an extra-large bowl of popcorn while you read Sacrifice in one sitting."
--C.M. WENDELBOE, author of Death on the Greasy Grass "In this gripping, imaginative mystery set in Grand Canyon National Park, ancient Anasazi culture collides with the modern world in the most unexpected of ways. Like Tony Hillerman, Scott Graham uses his deep knowledge of the region to fashion a thrilling, compulsively readable story."
--FRANK HUYLER, author of The Blood of Strangers "As unpredictable and twisty as a switchback trail plummeting into its depths, Graham's thriller sucks you into the mysteries of the canyon and the story of an unsuspecting family whose lives will never be the same."
--TED BOTHA, author of The Girl With the Crooked Nose "Graham deftly weaves a first-rate mystery through the caves and canyons and winding roads of the Grand Canyon. If you've been, you'll immediately be drawn into the story. If you've never been, this may be your motivation to buy the ticket I can't wait to read which national park he tackles next "
--TRICIA FIELDS, Hillerman Prize-winning author of Scratchgravel Road

About the Author
Scott Graham's most recent book, Extreme Kids, won the National Outdoor Book Award. His five nonfiction books have been reviewed positively by many publications and writers, including The New York Times and acclaimed Outside magazine columnist Mark Jenkins. Canyon Sacrifice is his first novel.