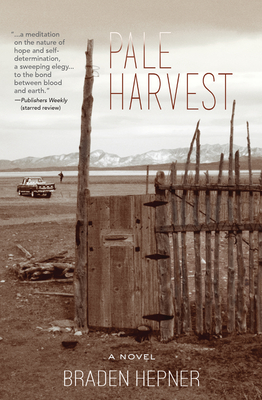 Pale Harvest (Paperback)
Torrey House Press, 9781937226398, 365pp.
Publication Date: September 9, 2014
* Individual store prices may vary.
Description
Jack Selvedge works a dying trade in a dead town. When Rebekah Rainsford returns on the run from her father, her dark history consumes him, and she becomes the potential for his salvation, the only thing that might dredge him up from his crisis of indifference. As betrayal and tragedy change Jack's life forever, he discovers a new if nascent hope amid the harshly beautiful western landscape that shaped him. A deeply written and deeply felt story of love, depravity, and shattered ideals, Pale Harvest examines the loss of beauty, purity, and simplicity within the mindset of the rural American West. " A]n unforgettable literary blast....Hepner's characters are among the most compelling to be experienced in contemporary fiction...readers will be moved by the author's poetic rendition of the land's unique topography that inflames, confounds, and rarely satisfies one's personal hunger for carving out a meaningful and happy life."
--THE UTAH REVIEW "At once bleak and pleasingly beautiful, the novel grows true from pain, betrayal, loss, love, and pale salvation."
--15 BYTES "Pale Harvest is a dark novel by a deft storyteller."
--HIGH COUNTRY NEWS "Dazzlingly laconic, making poetry of the sheer sweat and physicality of everyday life in a worn-out landscape..."
--LIBRARY JOURNAL, "Small-Press Gems" "Hepner's stunning debut novel is an homage to the barren landscape of the American West. Hepner's gorgeous prose evokes the austerity and lonely beauty of the landscape. The novel is a meditation on the nature of hope and self-determination, a sweeping elegy to a dying town and to the bond between blood and earth."
--PUBLISHERS WEEKLY (starred review) ..".a deeply moving and intellectually profound novel built on the iconic myth of the American West. Think McMurtry's The Last Picture Show or Horseman, Pass By...Hepner draws a narrative exploring the existential angst smoldering in the rural West as family farmers who hold stewardship of the land confront social and economic conditions beyond their control. A bravura debut."
--KIRKUS REVIEWS (starred review) "A quietly dazzling debut that any reader could enjoy."
--LIBRARY JOURNAL (starred review) "Set in a rugged scrap of Utah, this first novel rings with the hard-scrabble tones of Steinbeck...Pale Harvest is lush with unusual vocabulary and microscopic detail that combine to evoke a land and a kind of life singular to the American West."
--FOREWORD REVIEWS "Hepner is a master storyteller, a craftsman of the first order, and a fine new talent. His Western Realism is a refreshing jolt, a throwback to Steinbeck and Stegner with its own stamp of uniqueness."
--ANTHONY SWOFFORD, author of Jarhead and Hotels, Hospitals, and Jails "Hepner's starkly poetic voice leads us into the lives of characters torn between the imagined glories of the infinite and the raw realities of hard labor here on earth. Pale Harvest is an unforgettable addition to the ever more various stew of American literature."
--SCOTT SPENCER, author of Man in the Woods, A Ship Made of Paper, and Endless Love

About the Author
Braden Hepner graduated from the Iowa Writers' Workshop in 2009 and now lives in Idaho with his wife and son. This is his first novel.
or
Not Currently Available for Direct Purchase