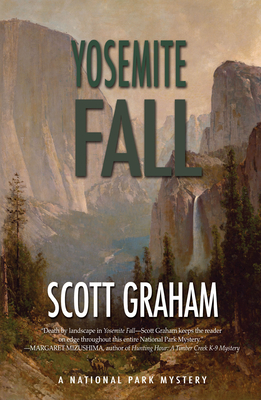 Yosemite Fall (National Park Mystery) (Paperback)
Torrey House Press, 9781937226879, 220pp.
Publication Date: June 12, 2018
* Individual store prices may vary.
Description
"Graham has crafted a multilevel mystery that plumbs the emotions of greed and jealousy that cause some people to ignore their humanity. He also weaves into the story a vast store of information about the history of Yosemite, details about rock climbing and paramedic procedures." --THE DURANGO HERALD "The historical perspective on the Yosemite area is fascinating, and the plot associated with a young girl's climbing skills helps the non-rock-climbing reader understand the sport as well as adding tension to the story. Graham effectively places the reader in the landscape and history of the West." --REVIEWING THE EVIDENCE "Graham's winning fourth National Park mystery uses Yosemite as a backdrop for a host of shady dealings and dangerous power struggles. This zippy tale uses lush descriptions of natural beauty and twisted false leads to create an exciting, rewarding puzzle." --PUBLISHERS WEEKLY "As always, the highlight of Graham's National Park Mystery Series is his extensive knowledge of the parks system, its lands, and its people."
--KIRKUS REVIEWS "Only the best novelists have the gift of propelling readers into the middle of artfully crafted adventures, and with Yosemite Fall, Scott Graham once again proves he belongs in the very first rank."
--JEFF GUINN, 2018 Edgar Award nominee and New York Times bestselling author of The Road to Jonestown "Death by landscape in Yosemite Fall--Scott Graham keeps the reader on edge throughout this entire National Park Mystery."
--MARGARET MIZUSHIMA, award-winning author of Hunting Hour: A Timber Creek K-9 Mystery Archaeologist Chuck Bender arrives with his family in Yosemite Valley to study the 150-year-old murders of a pair of gold prospectors in the midst of preparations for the annual Yosemite Slam rock-climbing competition and a reunion with his old climbing buddies. The trip quickly turns threatening when one climber never shows up, climbing equipment fails, and Chuck and his wife, Janelle Ortega, are suspected in the shocking, present-day death of one of Chuck's former rock-climbing partners. Together, Chuck and Janelle race against time to solve the dual mysteries and prove their innocence--all while facing down a ruthless killer on the loose.
About the Author
Scott Graham is the author of eight books, including the National Park Mystery Series from Torrey House Press, and Extreme Kids, winner of the National Outdoor Book Award. Graham is an avid outdoorsman who enjoys mountaineering, skiing, hunting, rock climbing, and whitewater rafting with his wife, who is an emergency physician, and their two sons. He lives in Durango, Colorado.