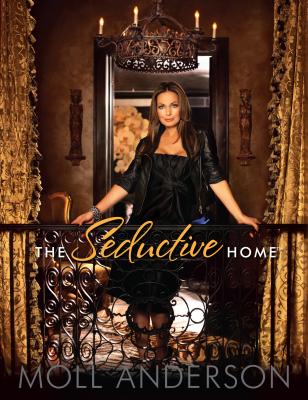 The Seductive Home (Hardcover)
Moll Anderson, 9781937268008, 319pp.
Publication Date: November 23, 2011
Other Editions of This Title:
Hardcover (2/10/2012)
* Individual store prices may vary.
Description
In her second book, The Seductive Home Limited Edition, accomplished interior designer and life stylist Moll Anderson unveils the keys to creating seductive, romantic spaces. Moll offers a look inside her personal homes, revealing for the first time her sensory-scaped vision infused with rich, sensual elements and decadent details found in the fabrics, furniture, walls, floors and accessories. From the luxurious textures of old world elegance, to the sleek shiny surfaces of a modern city, and the warm comforting earth tones of the southwest, Anderson masterfully blends each home's seductive style to reflect the color, textures and surroundings of their locations. Each Seductive Home Limited Edition has over three hundred gold-gilded pages of breathtaking images that will teach readers how to bring elegance, sophistication and even an indulgent sense of decadence to a home. More than visual inspiration, Moll also highlights the elements to create sensory-scaped rooms and intimate spaces while uncovering the keys to creating a seductive home and life. The final chapter of the book includes extensive before and after photos of each home, revealing how Moll transformed an empty shell into an extraordinary seductive home.
About the Author
Moll is an accomplished author, television and radio host, interior designer, life stylist, and advocate for women and children globally. Her lifestyle and interior design acumen have been enthusiatically embraced by readers with her first book Change Your Home, Change Your Life ( Cool Springs Press, (2006. Moll inspired readers beyond the basics of paint and fabric and showed them that making small, inexpensive changes both in their home and life is the most important investment they will make. Moll has brought her design prowess to such television shows such as Access Hollywood Live, Good Day LA, The Talk, Good Morning America, The Today Show, and Dr. Phil. Moll's career has been filled with many professional achievements-from winning an Emmy for her work as an entertainment reporter, being chosen as one of Donna Karan's Women Who Inspire, and as a three time recipient of the Gracie Awards: The Gracies recognize outstanding programing created by women and about women as well as individuals who make exemplary contributions to the industry. Along with her professional workm Moll is a dedicated philanthropist focusing her energy on many deserving causes. She commits her time and resources to improve the lives of women and children in her community and internationally through her work with such organizations with such organizations as Habitat for Humanity and UNICEF.
Praise For The Seductive Home…
The Seductive Home exemplifies Anderson''s ability, cataloguing her decorative triumphs and demonstrating her eye for elegance. Each of her immaculate layouts is full of detail, coloured flawlessly and befittingly balanced in scale. Space flows without hindrance, but everywhere you look, tiny particulars seduce the senses and arrest attention.


-Michael Hill

The "vibe" of the home is one of the key features Anderson seeks to accentuate. Often creating intimate pockets within a larger space, Anderson is able to pull on multiple senses upon walking in the home, creating a sense of seduction.


-Stephen Brown

Anderson, a noted interior designer and lifestyle expert, shares her ideas for creating a personal sanctuary in her new book, "The Seductive Home."



 



 


-Hali Bernstein Saylor
or
Not Currently Available for Direct Purchase