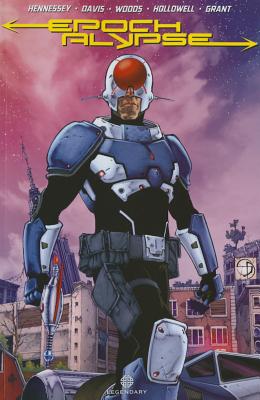 Epochalypse
Paperback

* Individual store prices may vary.
Description
ABOUT THIS BOOK...

Legendary Comics turns history on its head with the sci-fi adventure Epochalypse, a mind-bending new series from historical author Jonathan Hennessey (The United States Constitution: A Graphic Adaptation; The Gettysburg Address: A Graphic Adaptation) and acclaimed artist Shane Davis (Superman: Earth One, Shadow Walk).

When a mysterious space-time phenomenon causes 600 years of human history to collapse into a single era, societies from the past, present and future are forced to coexist in a dystopian civilization. To set the timeline straight, an elite team of Resynchronization Officers must rid the world of Anachronisms -- futuristic artifacts that threaten the very laws of time. To ensure our future, we must undo it.

As one defiant officer leads the manhunt for elusive scientist Dr. Tomorrow and notorious outlaw The Salesman, he is challenged by shadowy agencies, rebel militias and forbidden desire. Can our hero save history -- or doom the future?

• Compilation of the 6 issue series

• Includes bonus materials on the making of the comic




Legendary Comics, 9781937278496, 152pp.
Publication Date: July 7, 2015
About the Author
ABOUT THIS AUTHOR...

Author Bio: Jonathan Hennesey is a writer living in Los Angeles. A ten-year veteran of the film and television production industry, Hennessey also works as a story analyst for Phoenix Pictures. He is the author of The United States Constitution: A Graphic Adaptation. Residence: Los Angeles

Illustrator Bio: Shane Davis broke into the comics industry in 2003 at DC Comics and over the past decade has done several books for them and for Marvel. His most recent work includes the New York Times bestselling Superman: Earth One series for DC and Shadow Walk for Legendary.




or
Not Currently Available for Direct Purchase