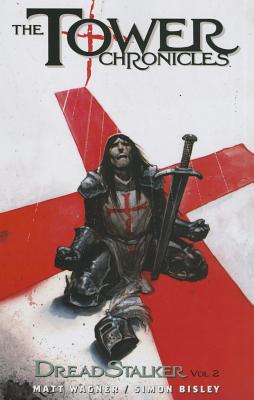 The Tower Chronicles
DreadStalker Vol. 2
Paperback

* Individual store prices may vary.
Other Editions of This Title:
Paperback (2/17/2015)
Description
ABOUT THIS BOOK...

The supernatural bounty hunter John Tower returns in this thrilling new collection from writer Matt Wagner (Mage, Grendel) and artist Simon Bisley (Lobo).

Supernatural bounty hunter John Tower has long been a man shrouded in mystery. Now, discover what set him on this path of horror as his origins are finally uncovered, revealing just what Tower is risking his life to find!

Picking up where the mid-season cliffhanger left off, Tower finally satisfies Alicia's burning curiosity. As Tower confesses his true nature - one dark secret at a time - Alicia learns just what condemned him to an eternity of torment and ignited his endless quest. But the revelations are cut short when the Brotherhood of the Rose springs a trap on our vulnerable heroes, and a deadly game of cat and mouse begins!

• Written by Matt Wanger (Grendel, Mage)

• Featuring interiors and covers by acclaimed artist Simon Bisley (Lobo)

• Includes bonus materials on the making of the comic

"Matt Wagner exceeds all expectations with a story that flows with action and eeriness from start to finish. Accompanied by art from Simon Bisley, a master of his own trade, "The Tower Chronicles: GeistHawk" #1 offers plenty more than your typical demon-bounty-hunter story." -- Bloody Disgusting

"This could be a great series, especially if we get more vampires ripping the heads off of people -- because that stuff is awesome!" -- IGN

"[Tower Chronicles is] well drawn on the whole." -- The Beat




Legendary Comics, 9781937278540, 144pp.
Publication Date: August 18, 2015
About the Author
ABOUT THIS AUTHOR...

Author Bio: Matt Wagner has enjoyed a career in comics for over twenty years. Born and educated in Pennsylvania, his first published work was a short story that would introduce one of comicdom's most respected creator-owned characters--the mastermind assassin, GRENDEL. Best known for this epic creation and his other, more personal, allegory, MAGE, Matt has also worked on a variety of established characters at DC Comics.
Illustrator Bio: Simon Bisley is a British comic book artist best known for his 1990s work on ABC Warriors, Lobo and Sláine. His style, reliant on paints as well as inks, was strongly influenced by Frank Frazetta and Bill Sienkiewicz and took inspiration from rock album covers and graffiti as well as traditional comics art. While still a student, Bisley did a painting of a robot holding a baby that a friend passed to Pat Mills, and inspired him to relaunch the ABC Warriors strip, with Bisley as artist, in 1987.




or
Not Currently Available for Direct Purchase